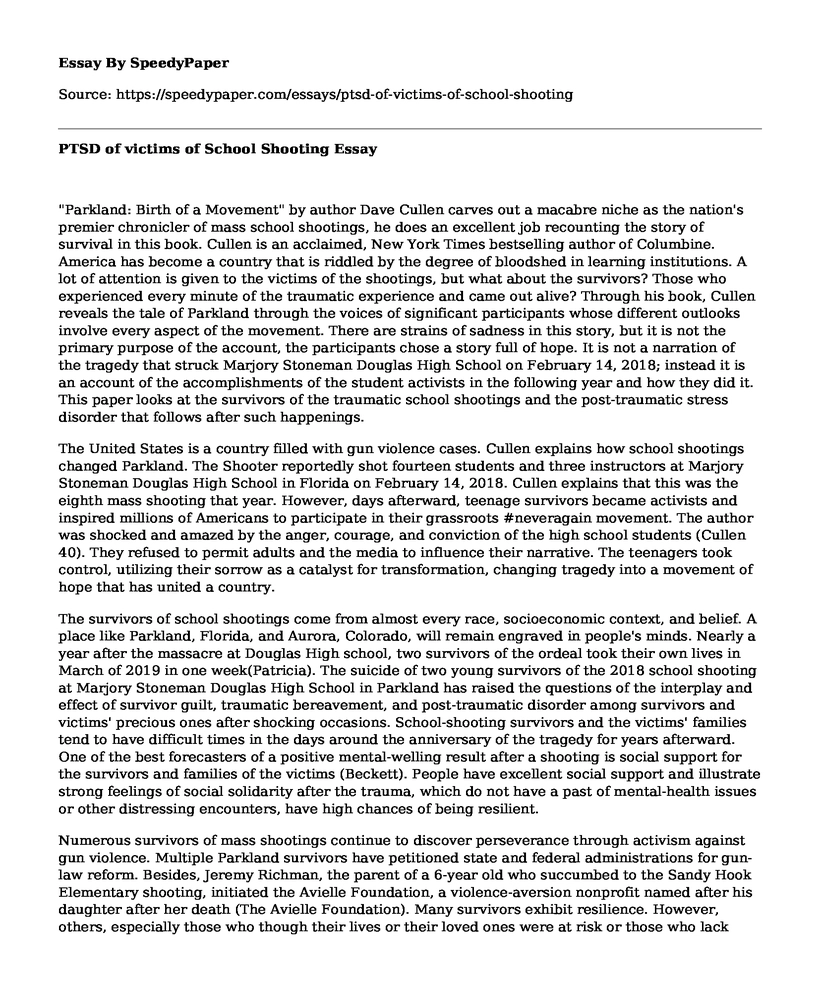 "Parkland: Birth of a Movement" by Dave Cullen carves out a macabre niche as the nation's premier chronicler of mass school shootings. Cullen is an acclaimed, New York bestselling author of Columbine. Cullen reveals the tale of Parkland through the voices of major participants whose different personalities and outlooks involve every aspect of the movement. Rather than taking the reader into the thoughts of the murderer, he takes them into the heart of Douglas students as they cope with the usual problems of high school students in every place-waiting for college approval letters, competing against their athletic competitors, preparing the yearbook, studying for mid-term exams, enjoying prom and graduation as they move away from the horrific event that changed them forever (Cullen 23). The paper examines the post-traumatic stress disorder of victims of school shootings.
The United States is a country filled with gun violence cases. Cullen explains how school shootings changed Parkland. Nicolas Cruz reportedly shot seventeen students and instructors at Marjory Stoneman Douglas High School in Florida on 14th February 2018. Cullen explains that this was the eight mass shooting that year. However, days afterward, teenage survivors became activists and inspired millions of Americans to participate in their grassroots #neveragain movement. The author was shocked and amazed by the anger, courage, and conviction of the high school students (Cullen 40). They refused to permit adults and the media to influence their narrative. The teenagers took control, utilizing their sorrow as a catalyst for transformation, changing tragedy into a movement of amazing hope that has united a country.
The survivors of school shootings come from almost every race, socioeconomic context, and belief. Place like Parkland, Florida; and Aurora, Colorado will remain engraved in people's minds. The suicide of two young survivors of the 2018 school shooting at Marjory Stoneman Douglas High School in Parkland has raised the questions of the interplay and effect of survivor guilt, traumatic bereavement and post-traumatic disorder among survivors and victims' precious ones after shocking occasions. It is alarming to note how the suicides happened within a 10-day period. School-shooting survivors and the victims' families tend to have difficult times in the days around the anniversary of the tragedy for years afterward. One of the best forecasters of a positive mental-welling result after a shooting is social support for the survivors and families of the victims (Beckett). People have good social support and illustrate strong feelings of social solidarity after the trauma, which do not have a past of mental-health issues or other distressing encounters, have high chances of being resilient.
Numerous survivors of mass shootings continue to discover perseverance through activism against gun violence. Multiple Parkland survivors have petitioned state and federal administrations for gun-law reform. Besides, Jeremy Richman, the parent of a 6-year old who succumbed to the Sandy Hook Elementary shooting initiated the Avielle Foundation, a violence-aversion nonprofit named after his daughter after her death. Many survivors exhibit resilience. However, others especially those who though their lives or their loved ones were at risk or those who lack social support-encounter continuous psychological health issues with the inclusion of post-traumatic stress, anxiety, substance abuse, and depression. It is estimated that 28% of individuals who have experienced a mass shooting develop post-traumatic stress disorder (Bockler 60).
One issue that forecasts how well mass shooting victims will fare lasting is their immediacy to the occurrence. Those people who get injured in the shooting, those who see their friend get shot, and those who perceive that their own lives are in risk are at much bigger risk for long-lasting PTSD signs and other psychological health repercussions than survivors who may be hiding at a nearby location or farther from the occurrence. Earlier shock may be a motive why women have a high probability of developing PTSD than mess after mass shootings. Survivors' coping approaches and support frameworks are also strong forecasters of their long-standing health and wellbeing. Individuals who participate in self-responsibility for the disaster-believing they ought to have done more to attempt and save colleagues who died or at bigger risk for long-lasting poor mental consequences (Bockler 77).
The Parkland school shooting survivors initiated the 'March for Our Lives' movement which became one of the biggest rallies in American history. Gonzalez game a brief speech and instilled hope. Cullen was there when the movement arranged its rallies. He describes how Hogg, after surviving the incident, rode his bike to the school shooting scene and documented the events as a journalist. Jaclyn Corin, attributed to the formation of the movement, organized buses of students to march to Tallahassee to persuade legislators that gun violence was a menace worth fighting. As Cullen tells it, the movement was quick, organize, and at first diffuse. The mastermind of the Parkland students came in merging around a highly disciplined core group while allowing other branches advance where required. The effect of the school extends far beyond the directly impacted school and community. Numerous students feel unsafe to go to school after a mass shooting and have fewer chances of considering suicide.
Survival after school shootings can destructively affect students throughout the rest of their lives. However, community reactions to school shootings can assist in mitigating the effect of ASD and PTSD on young people; schools themselves are progressively a basis of anxiety for scholars. The recent Parkland suicides highlight the long-lasting costs of school shootings on the next generation of Americans. School shootings are direct distressing occurrences that can possibly stimulate PTSD in individuals who are openly vulnerable, as life and limb under direct and violent threats. Students are more vulnerable; childhood trauma has more long-term and pervasive impacts on young emerging panics, both in terms of their mental view and their physiological frameworks that handle anxiety and stress (Wilson 67). On a subordinate level, the danger of mass shootings through schools is detrimental to psychological health; security and safety are often crucial to a child's healthy mental growth, and this continuous stress and a feeling of threat will interrupt the sagacity of safety and put the students in danger of developing nervousness and temper conditions.
As Cullen notes, parents played no role in Parkland's children's organization, other than providing role-suitable demands for chaperones, psychological health counseling, and sleep. However, they also serve as patrons in the Cullen hero story of the students. In this view, the reader can see the reasons adults made more risk-averse by experience could never have formed this movement, which needed risk-taking as much as determination and naivete. In the situation where voices of the adults creep in, there are important reminders that this is essentially a narrative child. Cullen narrates that Parkland students decided to make their quest about more than the suburban school shootings that are dominant in the news; they discover a common cause with children in cities who experience endemic violence not only in classrooms but also in 'bad' neighborhoods.
Psychologists aid schools impacted by shootings to function in a way that is sensitive to the requirements of the students and staff. This entails diagnosing students to ascertain who requires more comprehensive psychological health amenities, tracking those who are recurrently preoccupied and functioning with school medical staff to examine children who are diagnosed with stomachaches, headaches, or other issues not reported before. However, the case was different in Parkland, Florida. The students responded in fury and demanded quick government action and reprimanded adults for their failure in safeguarding them. The children did not worry about the 'politicization' of the tragedy and indicated that tougher gun laws do not reduce gun violence (Gold and Simon 34).
Conclusively, Cullen explains about the Parkland, Florida shooting and how children responded in a brave manner. He explains how Nicolas Cruz shot 17 students and educators at Marjory Stoneman Douglas High School. With time, young, traumatized victims were spurring their grief and outrage into action. Social media was ablaze with demands for gun regulation, and the country listened. After the occurrence, the student galvanized national school walkouts, a march on Washington, and television debates with senators. Many survivors of school shootings continue to understand perseverance through activism against gun violence. The Parkland school shooting survivors started a movement that became one of the largest rallies in American history. One of the best forecasters of positive psychological wellbeing occurs a shooting is a social support for survivors and families of the victims.
Works Cited
Beckett, Lois. Parkland by Dave Cullen review - the shooting that led to change. (2019, Mar. 1) https://www.theguardian.com/books/2019/mar/01/parkland-dave-cullen-review Accessed November 1, 2019
Bockler, Nils. School Shootings: International Research, Case Studies, and Concepts for Prevention. New York: Springer, 2013. Internet resource.
Cullen, Dave. Parkland: Birth of a Movement. [New York] : HarperCollins. 2019. Internet resource.
Gold, Liza H, and Robert I. Simon. Gun Violence and Mental Illness. Arlington, Virginia: American Psychiatric Association Publishing. 2016. Internet resource.
Wilson, Laura. The Wiley Handbook of the Psychology of Mass Shootings. Chichester, West Sussex, England: Wiley Blackwell. 2017. Internet resource.
Cite this page
PTSD of Victims of School Shooting, Free Essay in Psychology. (2022, Feb 21). Retrieved from https://speedypaper.net/essays/ptsd-of-victims-of-school-shooting
Request Removal
If you are the original author of this essay and no longer wish to have it published on the SpeedyPaper website, please click below to request its removal: