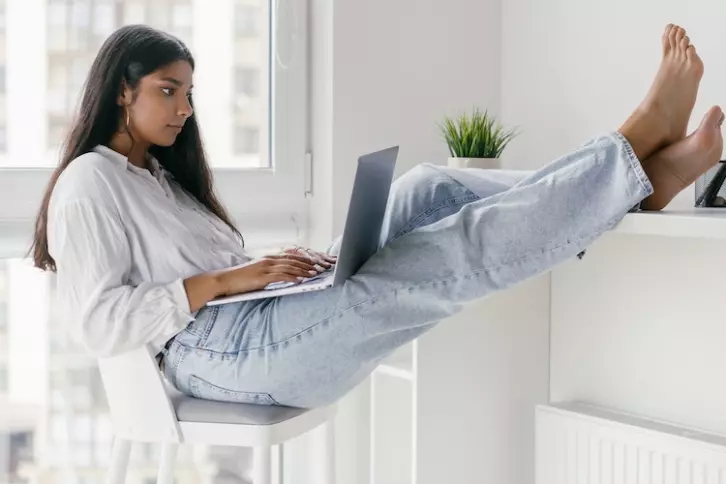 How to write a creative essay: step-by-step guide for modern students
Creative essay writing can feel like an impossible challenge. Some students feel drawn to original thinking and idea transformation, while others prefer simple word forms. That is why writing a creative essay about yourself, or any event can be tricky. Such a problem is relevant for many people when they open a word doc, so you're not alone. However, you will still need to craft such an assignment, so you'd better be prepared ahead of time. Here is a complete guide on how to write a creative essay like a pro. Let's improve your chances of making the right impression with your writing.
What is a creative essay?
Surely you are waiting for the correct definition to understand what kind of assignment you will face. A classic creative essay is an academic paper consisting of 5-6 paragraphs. As a rule, your paper will consist of an intro, 2-3 body paragraphs, and a conclusion. The biggest advantage and, at the same time, the disadvantage is the creative component of such an assignment. Theoretically, you can choose any topic and way to convey important information.
But academic freedom means increased complexity in covering your topic. It can be difficult for young people to prioritize the disclosure of specific ideas. As a rule, such papers are given to students to reveal their creative skills. It is also about the ability to look at some things differently. In other words, young people should use creative ways to write an essay, highlighting important topic details. 
How to pick creative essay topics?
And here is the most challenging part of the preparatory process. How to choose creative essay topics, and what nuances should you pay attention to? As a rule, professors give students freedom of action, so you must look for the idea that resonates most with you. Nobody knows the tune playing in your head so look for ideas that inspire you. Perhaps you should concentrate on ideas that are familiar to you. Next, look for areas of research that do not require extensive preparation or comprehensive analysis. Here is a list of creative essay ideas that many first-year students commonly use.
Describe your emotions when you first saw a storm in the ocean.
Suggest a possible post-apocalyptic scenario for a disaster movie.
Imagine being invisible for a day. What are you going to do?
What would you do for humanity with the power of a god?
Describe a thing or person without which your life would be meaningless.
As you can see, your creative writing essay is not a very difficult assignment in terms of requirements. The most challenging moment is the choice of the idea that you need to reveal. Many students often experience frustration and a lack of understanding of prospects. Surely creative writing essay examples will help you understand the essence of your assignment and get off the ground. Here are the papers that are worth your attention.
As you can see, the devil is not as black as he is portrayed. As a rule, creative essays are papers that release your non-standard view of things, people, or events. There is no wrong way for you: all writing directions will give you a direct path to the finish line. But only you are responsible for what will happen in the end and what conclusions your professor will see. Please note that you can easily find guides and topics for other essay types at SpeedyPaper. For instance, students can find out
how to write a reflective essay
here. So pick the best topics and start writing!
Pre-writing stage
The pre-writing stage is the foundation for your creative essay. Initially, it's crucial to understand the assignment thoroughly. Knowing your task inside and out will guide you toward creating meaningful and relevant content. Take your time to interpret the instructions. Then, choose a captivating topic.
Next, conduct preliminary research on the chosen topic. It will deepen your understanding and provide rich details for your writing. At this stage, it may be helpful to
buy personal statement
papers. For students who find the process daunting, you might consider the
best scholarship essay writing service
. They can provide valuable guidance and support, ensuring your essay is a stand-out piece.
Writing a creative essay: express guide for newbies
No one wants to walk down a dark tunnel into the unknown. That is why all beginners should know the basic steps in order not to waste time and not make the simplest mistakes. Here are the creative essay writing features and steps you need to take to create an outstanding paper that will impress your professor.
How to start a creative writing essay: everything a freshman needs
Indeed you are ready to move from the stage with general tips to solid instructions to craft your creative writing essay on fear or joy. So now you don't need to panic: here's everything you need to know to write a good essay.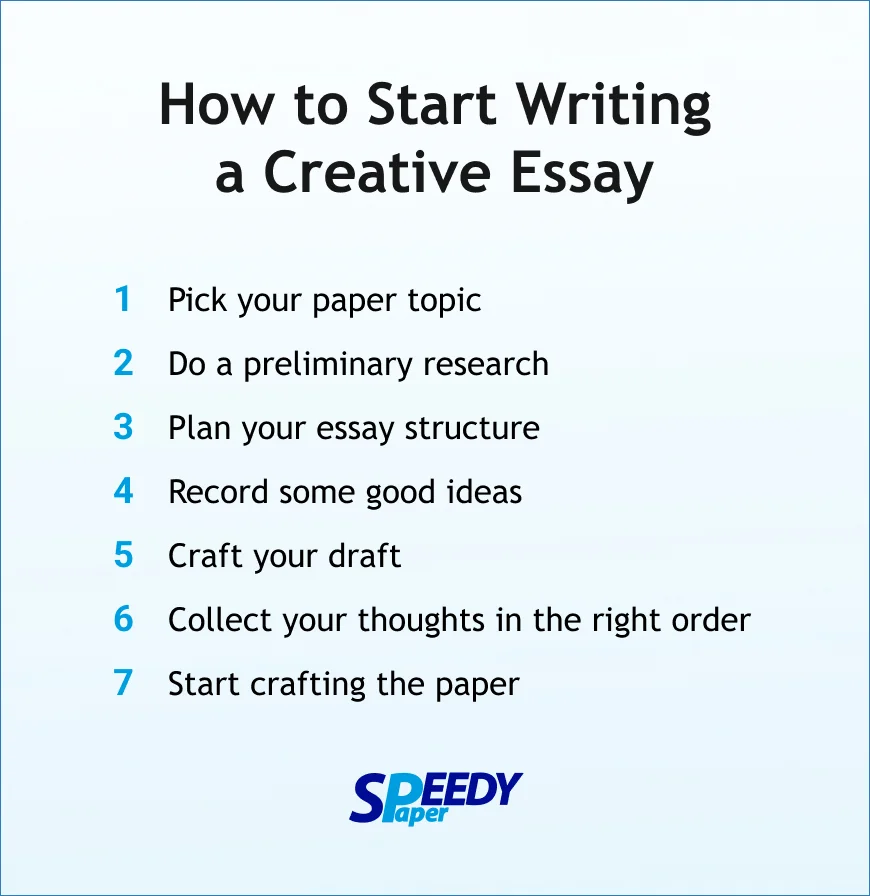 Pick your paper topic
Before you write your creative essay title and start forming paragraphs, you must decide on your topic. What will you write about, and what nuances do you want to reveal? Choose your subject and topic to get started. Look for ideas on the Internet, in the library, or ask your professor to show you the way. As a rule, you can choose something interesting, even using the standard topic lists. The main feature is that you will write about the nuances that resonate with your thoughts, so the creative component of your essay will be at its best.
Tip from SpeedyPaper
Look for topics familiar to you or ideas that don't require extensive research. Focus on something more "narrow" and conceptual to not stretch the research process for a couple of days or even a week.
Do a preliminary research
The first step is done, and you know what you want to write about. To create your creative essay, you should do your research and learn more about your topic. Next, form a pool of ideas that are relevant to your assignment. As a rule, you will need several sources to compare data and draw inspiration. However, some topics may be related to your experience or attitude, so that the research phase can be reduced to a few basic thoughts or emotions.
Plan your essay structure well
Now you will need to create a creative essay outline so that all your ideas and suggestions do not get lost while writing paragraphs. Map your paper out of sections and paragraphs. Sometimes, you should even leave 2-3 sentences with a short description of what you will write about. This strategy is like putting puzzles together to see the whole picture.
Record some good ideas
Imagine that you are forced to create a creative writing essay on conflict. Surely such a task will be difficult even for an experienced student. That is why you should write down all your ideas and organize them according to your questions or arguments. These road signs will guide you until you see the finish line. Generate as many ideas as possible and organize them in order of priority.
Craft your draft
After you have analyzed all the creative writing essay prompts, you should start creating a draft. Write down all ideas and formulate a key thesis statement. Maybe you should check good samples to stand out from the crowd and know in which direction you should move. In any case, this stage is related to creating all your paragraphs. Some ideas may sound controversial or unreasonable, but you can correct any weak suggestions later.
Collect your thoughts in the right order
And now, it's time to put the entire creative essay writing activities in order and sort your ideas. You have already created a draft, so it will be easier for you to add important details to each paper part. You can even insert idea links into your WORD document in the early stages. Then, you can get closer to the final stage by systematizing ideas, evidence, and arguments in the right order.
Start crafting the paper
Your creative writing essay looks like a collection of facts and short ideas at this stage, so let's finish what we started. First, create all paragraphs and clear transitions to make all your ideas look solid. Of course, if you rely on samples or ideas voiced by someone else, there is nothing wrong. Next, try to put all the pieces of your paper together and polish the sentences.
How to craft a creative essay title?
As a rule, most academic problems begin when students cannot cope with a similar task. That is why you should know how to title an essay. You must combine several essential components: identifying the topic, keywords, and captivating triggers. Moreover, your title should be clear. A quality title grabs attention and makes you want to read more. Here are examples that will help you understand which direction to move.
What resources and technology does NASA need to colonize Mars?
An event that influenced my academic ambitions.
How do childhood fears influence the formation of adult ambitions?
Can phobias be turned into advantages?
As you can see, you can use questions for catchy titles. Your creative essay should be potentially interesting, so don't be afraid of controversial ideas. In addition, you can describe the paper in five words. This strategy is popular among many students. For example, let's say you want to describe your positive experiences in the past. What five words would you choose to convey your emotions? You should also choose one specific word, which will be a kind of beacon. This keyword will be a springboard for further writing activities.
Outlining your essay
An outline is an organizational tool used by students in their academic writing. It is a skeleton, a foundation of an entire writing piece meant to structure your creative writing essay. In other words, this is where you transform your ideas into a list of contents. Also, you should not forget that all students must use the Oxford 3-point method to create a solid outline. You should divide your paper into three conditional parts.
The set up. It is the base paper where you should present your idea and briefly visualize key research patterns. Then, just establish the characters, locations, or relationship people have with each other.
Confrontation. As a rule, confrontation is the key part of your essay, which deals with disclosing your topic. So this is where the story has a turning point. The challenge needs to be significant enough to capture the reader's attention. In other words, confrontation will allow you to take a broader view of certain things.
Resolution. And here is the final stage associated with visualizing all your ideas and findings. You can also express assumptions or ideas about how it will affect certain events or life processes.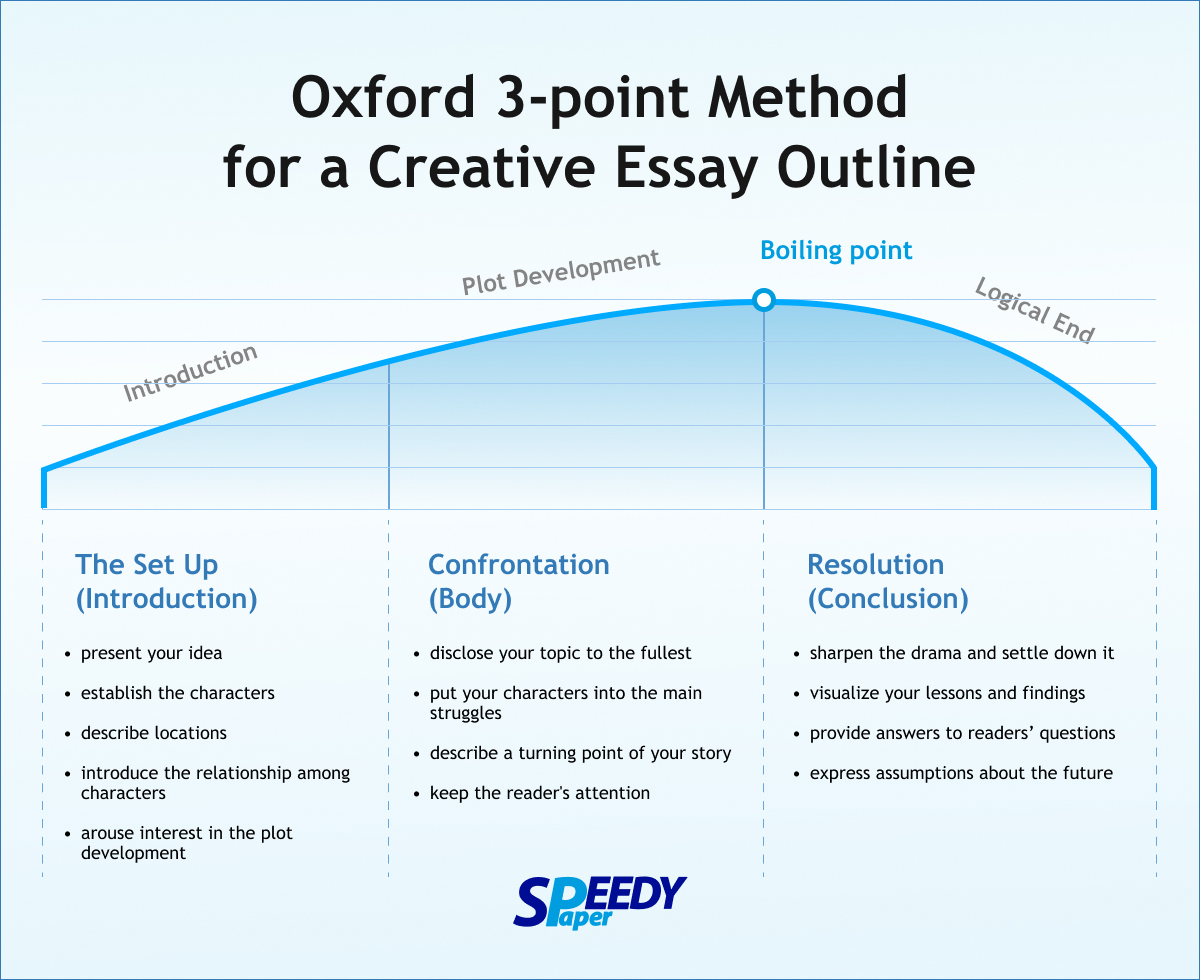 The Oxford 3-point method is very similar to the classical structure, implying an introduction, body, and conclusion. As you write your essay, you have three key parts to build upon. The only major difference is that confrontation involves a more creative way of releasing your emotions, ideas, or arguments.
Creative essay writing tips: things that always work
Not everyone is ready to deal with creative writing essays without prior preparation. Many students experience stress because of the feeling of the unknown. But don't despair: here are some good writing tips to get you started.
Just start writing
Sometimes the best advice is action. You can endlessly prepare for a writing activity, look for exciting sources, or compare facts. But the preparatory stage cannot last forever, and you will have to start your academic process. Start writing your essay and form all the key ideas. Don't forget that you need at least a rough draft to get the ball rolling. You may rewrite some paragraphs after a couple of hours, but that won't matter. Now you need to transfer all the ideas from your head to paper.
Be detailed
Bring more details and creative aspects that are important to your paper. Don't forget that your goal is to expand your topic. You don't always have to do detailed research and look for facts. However, you need details about your emotions, personal experience, or observations.
Don't start editing paragraphs until you're finish writing
The stage of creating all paragraphs is associated with the continuous generation of ideas. Your brain is a relay that you must not turn off until the job is done. That is why you should stay away from editing as much as possible. What if you stop to polish your opening paragraph and lose a great idea? It would be sad to make such sacrifices to polish a sentence or two. Try to postpone the final stage until the end.
Don't be afraid to share your experiences and thoughts
Do not forget that you are going to write a creative essay. That is why you should not block your ideas, thoughts, and views on certain things. Generally, professors aim to stimulate creativity, so don't stop yourself. Perhaps your ideas and thoughts will be illogical or controversial, but this is your way. The professors want to see your logical thinking path and creative patterns. So show your ideas, and don't be afraid to think outside the box. Indeed your creativity will become a springboard for high grades.
Tip from SpeedyPaper
Some types of essays and topics encourage reasoning and reflection, so you should not be afraid to share ideas that seem controversial at first glance. Don't forget that professors value students' ability to generate ideas and think logically. When discussing a specific research area, you have the right to express your personal opinion if it does not go against common sense or scientific concepts.
Don't be afraid to exceed the word limit
On the one hand, this advice looks very strange. What if your professor gave you an 800-word limit, and you know you can't even add a couple of extra sentences? During the drafting phase, you should write down all the ideas that will help you develop your topic. Add your observations, emotions, and logical conclusions. At the final stage, you can reduce the number of words according to the instructions. The main strategy is that deleting sentences looks like a much easier task than trying to increase the word count by declaring the same positions in your paragraphs.
Focus on flow
There is no place in the academic world for long, clunky, complex sentences to derail your story. As a rule, you must look for easier ways to articulate your emotions or ideas. That's why you should halve your sentences if it doesn't prevent your professor from understanding the original idea. In addition, look for the simplest wording and word forms so that all your ideas look transparent.
Your final essay writing stage
Let's assume that you have completed the main stage of creating your creative writing essay. All the most difficult moments are left behind so you can exhale with relief. However, you still need to take a few final steps to make your paper look perfect. To begin with, you should polish each sentence. Next, look for grammatical errors, typos, and vague ideas. You may even need to read your essay several times to find vulnerable parts. Then, analyze each paragraph alone or with someone.
You also need to double-check your compliance with all instructions. Check each item so that your professor has no complaints against you. Also, remember to use the plagiarism checker to identify non-original paper parts. You will probably want to add some quotes or information from third-party sources. If there are many such integrated parts of the text, you will have to deal with plagiarism. Finally, paraphrase sentences to make your creative essay original.
Creative essay examples
For some first-year students, looking for examples may seem like a strange exercise. But why are samples needed, and how can they help while writing creative essays? An example is essays written by other students. Sometimes they may be entirely relevant to your topic or partially related to important writing aspects. You get an example of academic structure, the correct distribution of ideas, and instructions. A good sample can save you a lot of time and show you the proper writing tricks to stand out from the crowd. That is why you should always check the examples available on the web.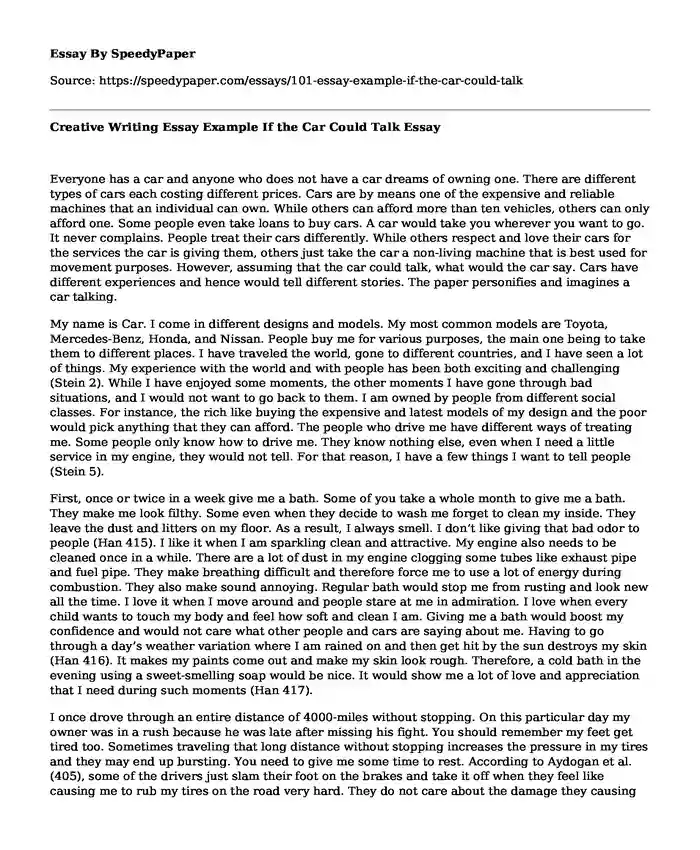 Still have some doubts? Then we're here to assist!
Not all students are ready to immediately become part of the academic community and quickly write such essays. That is why our company is ready to lend a helping hand to everyone who needs support. Surely you will be happy with academic assistance and the opportunity to get samples showing you in which direction you should move. Just contact our support agents and ask for papers help online! We will answer you as soon as possible and select qualified experts with Masters' and Ph.D. degrees. Writing creative essays is not a problem since we have a huge academic background. Now good grades will become a reality for you!