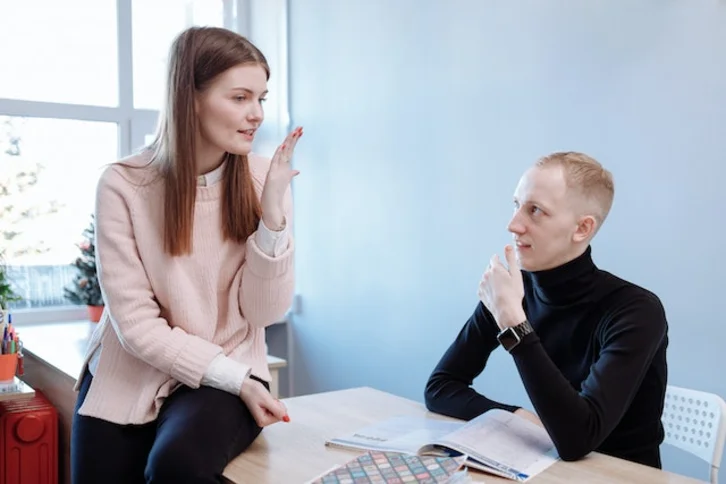 How to write an analytical essay: guidelines, ideas, and tips
Academic writing assignments differ in their types, forms, and specifications, so students should know how to succeed with the simplest to the most challenging ones. When it comes to analytical essays, it is indispensable to mind their specifications, unique structure, and other requirements. One should not forget that a flawless analytical essay is about personal insights on a historical event, scientific study, work of literature, or similar items.
Writing an analytical essay for the first time might be challenging, but only if you lack corresponding skills, knowledge, and guidelines. Keep reading the article to enhance your chances for success and discover effective tips and tricks that will draw you closer to the necessary results.
What is an analytical essay?
Before you start working on an analytical essay, you should understand its essence and main peculiarities, as it is a certain way to improved quality of the paper and its more profound content. Thus, before you dive into the writing process, here are a few questions to answer. "What is an analytical essay?", "What is the purpose of academic writing?", "What is its structure?" There are the ones to start with.
Analytical paper is a piece of academic writing that offers a substantive analysis of a specific topic or work. There are no limitations when it comes to the theme of the writing, so students can talk about music, arts, philosophy, and any other topic that seems relevant and up-to-date. A well-written analytical paper can explain certain information and contextualize it.
As for the goals of analytical essay writing, it is indispensable to highlight that it can benefit both the readers and the writers. When it comes to college students, they get similar projects to advance their analytical skills and contribute to critical thinking and the ability to make reasonable conclusions. Additionally, this type of work adds to the writing skills of the student and a basic understanding of the topic. When it comes to readers, analytical papers are aimed at expansion of their vision and providing deeper acknowledgment of certain topics.

Tip from SpeedyPaper:
Once you are aware of the paper specifications, you have a higher chance to thrive with the completion of the project. Dive into the essence of the essay type to come up with excellent content and impeccable form.
What is the purpose of this academic paper?
The purpose of this academic paper is to present a thorough examination of a particular issue or concept, often referred to as some analytical essay topics. It is not about voicing personal opinions but requires a critical and objective approach. You dissect topics, breaking them into essential components and studying each carefully.
Through this meticulous analysis, you seek to reveal hidden insights, offer new interpretations, or understand complex themes in a new light. Your primary goal is to enlighten your readers, offering them a unique perspective on the topic at hand. Thus, an analytical essay fosters deep comprehension and critical thinking skills.
Analytical essay: formatting features
Like in descriptive essay writing, an analytical essay has certain formatting features to adhere to. The preferred font is often Times New Roman, size 12, for easy readability. The essay should be double-spaced, contributing to a clean, organized appearance.
A one-inch margin on all sides is a standard requirement, perfectly balancing text and white space. Page numbers usually reside in the header, along with your last name. Always remember to include a title page if it's a requirement of your academic institution.
Analytical essay structure: key components to be included
It has already been mentioned that an analytical essay is a type of academic writing, which means it should be well-structured, coherent, and consistent in order to be effective and influential. There is nothing specific about the structure of this paper type, as it should have a classic division into three main parts.
Analytical essay introduction. The main idea of the introductory part is to grab the reader's attention, therefore, you should make maximum effort to keep this paragraph interesting and engaging. Start with unique statistics, appealing facts, or authentic examples that will explain the context and will encourage the audience to continue reading. Apart from the enticing hook, the introductory passage should also contain background information on the topic and thesis, which highlights your personal perspective on the topic.
Analytical essay body. The main part of the essay should consist of three to five paragraphs, conveying different points each. Every single passage should start with the topic sentence that will introduce the main concept of this part. Then, the writer should give proper evidence supporting the claim. This introductory sentence, analysis point, and evidence are indispensable parts of each body paragraph.
Analytical essay conclusion. Do not include new information in this part, but rather reiterate the thesis statement and revise the facts that have already been mentioned in the body. Thus, paraphrase the thesis, summarize key aspects of the body part, and come up with reasonable concluding thoughts to keep this part of the paper meaningful and influential.
Writing an analytical essay in a few simple steps
Analytical essay writing may become an easy task if you follow guidelines and instructions. Check out five manageable steps that will help you succeed with the project in no time. What will you get as a result? A high-quality, well-structured analytical essay that is appealing, relevant, and appreciated.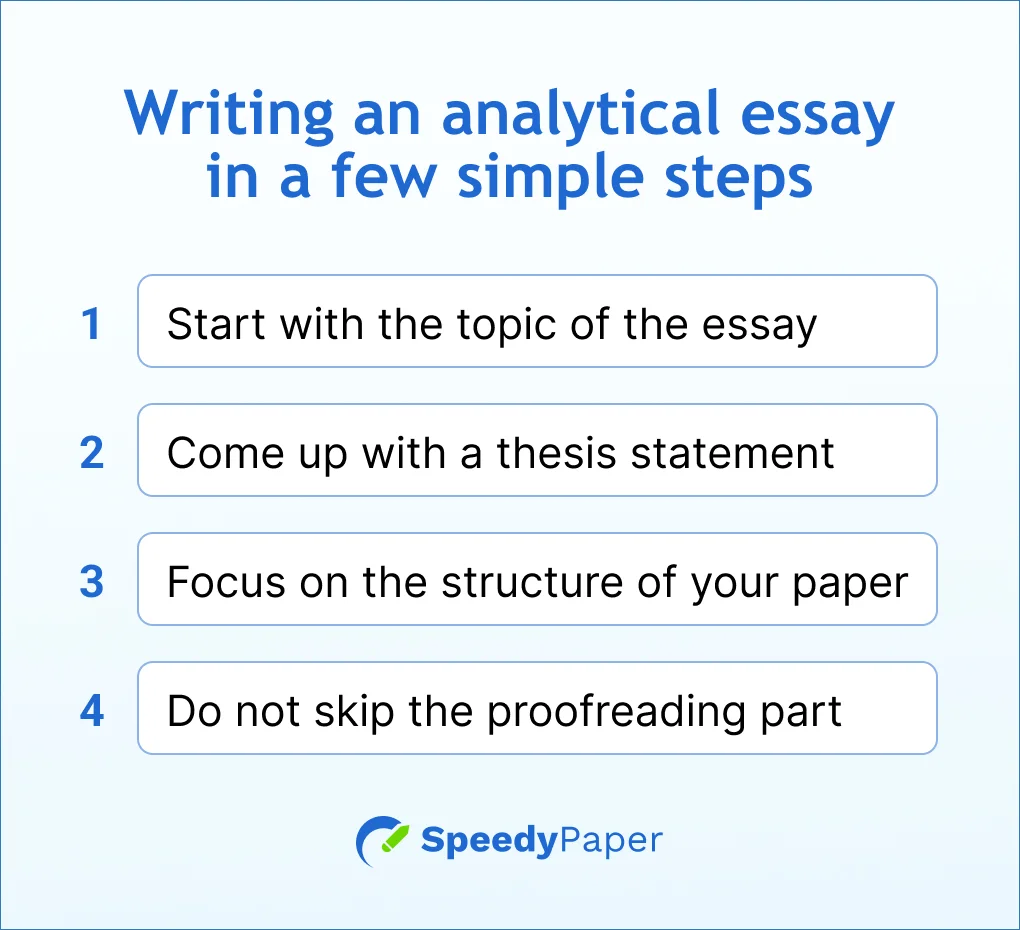 Tip from SpeedyPaper:
Flawless structure is a way to succeed with the assignment. Divide your paper into standard paragraphs to succeed.

Choosing from the variety of available analytical essay topics
The first and the most exacting and important task while working on an analytical essay is to pick the right topic. Browsing the web, you will surely come across unlimited ideas, but finding the theme that is likely to be interesting for both you and the audience may be challenging. Nonetheless, once you thrive with this step, you get much closer to the desired outcomes.
How to write an analytical essay stress-free? Take your time to read the instructions, check out numerous sample analytical essay topics, and make the right choice that will guide you to the desired outcomes. Here are a few ideas that may seem encouraging to you.
Video games for children: pros and cons
Key factors that make people Rob
Gangs and society: risks and possible advantages
Animal testing: should it be banned worldwide?
Learning new skills: is it really important?
People with no conscience: problems they face
What does it take to become a musician?
Phobias and the reasons people get them

Additionally, make sure the topic you have selected is: 
Relevant
Meaningful
Interesting
Authentic
Up-to-date
Creating a thesis Statement
Have you already selected the most relevant and meaningful topic for your analytical essay? Then, you are ready to move to the next stage, working on the introductory passage. In fact, a thesis statement is the critical part of the whole paper, as it clarifies the core idea of the paper and introduces the aspects analyzed in the text. Thus, when you have formulated your thesis statement, you should mind it all the way through the paper writing. Every single sentence of your analytical essay should be related to the thesis.
Researching and analyzing relevant data sources
The next stage of work on the analysis paper is exceptionally important, as it will predetermine the quality of the essay content. Deep and profound research is a way to thrive with the writing and make the paper influential and relevant. Focus on credible data sources that will give you meaningful and relevant ideas, interesting information, up-to-date statistics, and other facts that will prove your claims and serve as sufficient evidence.
If you succeed in the research stage, you will definitely know how to write an analytical essay fast and easily.
Working on the analytical essay outline
Finally, here comes the fundamental step you have to deal with working on the analytical paper. A well-structured and comprehensive outline is a way to thrive with the whole project, as it will serve as a step-by-step guide to flawless paper writing. In fact, an analytical essay outline is a shortened version of the paper with only the core sentences included. Keep in mind that the outline should be concise and contain no details. Focus on the most critical aspects so that you make a meaningful plan to speed up your further work.
How to create an effective outline? Here are a few tips that will contribute to your analytical essay writing and will advance it to an exceptionally new level.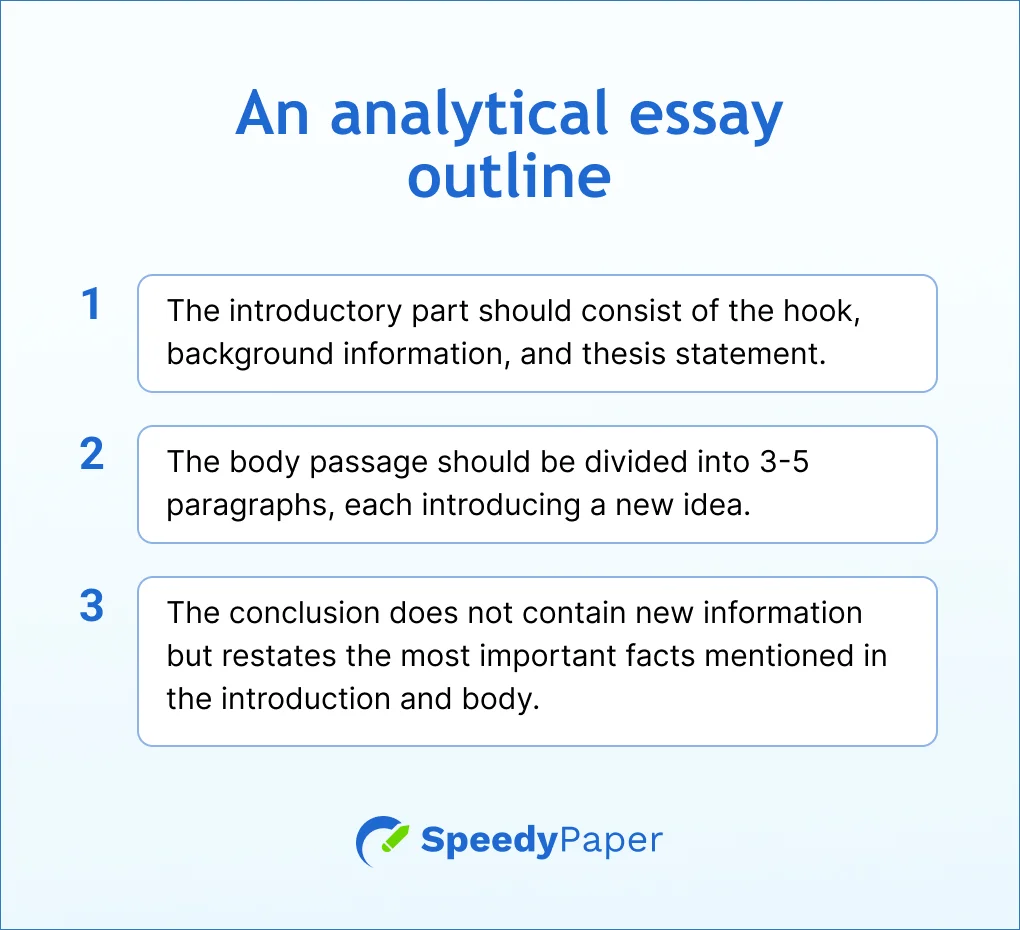 Introduction. Start with the introductory part with a provocative question. Introduce the work and the author. Provide readers with background information. Create a thesis statement that will present your personal point of view on the topic. These are all the elements that should be included in the paper, but the outline point will look like this.
"All people are equal, but some of them are more equal. Gender discrimination is a problem discussed by lots of people, as it has influenced the lives of many people. Should it be regulated? Sure! Are there effective ways to do it? Unfortunately, not."
Body. Traditionally, there should be 3-5 paragraphs introducing the specifications of the topic and its core aspects. Start with the topic sentence that is tightly related to the thesis statement. Give evidence and explanations.
"Gender inequality affects female productivity and efficiency at work. According to the statistics, women can be 20% more productive than men, but this ability is rarely used. Creating a proper atmosphere and fighting the gender discrimination issues, people can achieve much better results in a shorter period of time."
Conclusion. Do not include new information in the concluding parts, but rather restate the thesis and summarize body passages. Focus on the new perspectives for further studies in the area.
Writing a first draft
Have you dealt with the basic rules of writing an analytical essay? Are you done with an impeccable outline? Then, you are ready to follow the structure and create an influential essay that is meaningful, coherent, and worth appreciation.
Working on the first draft of your analytical paper, you should pay more attention to the content rather than the form or style. Follow the key point specified in the outline in order to create a meaningful and appealing essay.
Introductory part. Get the attention of the audience by asking provocative questions or introducing unique information on the topic. Include a thesis statement and some background information to keep the introduction reasonable and credible.
Main body. Keep the passage structured and meaningful. Avoid repetition of the same facts and care for each paragraph to provide new information, emphasizing a different aspect of the question.
Conclusion. Analyze the information specified in the body part and take your time to revise and summarize it. Reiterate the thesis statement and come up with a short and coherent conclusion.
Proofreading and editing
It seems that you are done with all the stages of your work on the analysis paper. However, there is still another step to make before submitting the project. Working on the first draft, you do not really pay much attention to grammar, punctuation, spelling, and other aspects that may influence the quality of the paper. Therefore, there is no way you send the essay to the professor without proper proofreading and editing.
Browsing the web, you are likely to detect multiple apps and platforms that can complete these stages automatically, but you can always check the essay manually. Focus on the structure of the paper, formatting, and mistakes that can be disappointing and overwhelming. Avoid any inaccuracies, errors, and typos that will diminish the prominence of your work.
Analytical essay example as a way to speed your work
Are you ready to start working on your paper now? Reading a comprehensive analytical essay example may be a good idea for those who are working on a similar project for the first time. Take your time to analyze a flawless paper created by a pro so that you can detect valuable writing tips, inspiring ideas, and authentic instruments that are likely to advance the quality of your analytical essay to a new level.

Tip from SpeedyPaper:
Reading sample essays is not inevitable but recommended. It is a perfect way to contribute to the quality of your writing and implement new writing tricks in your paper.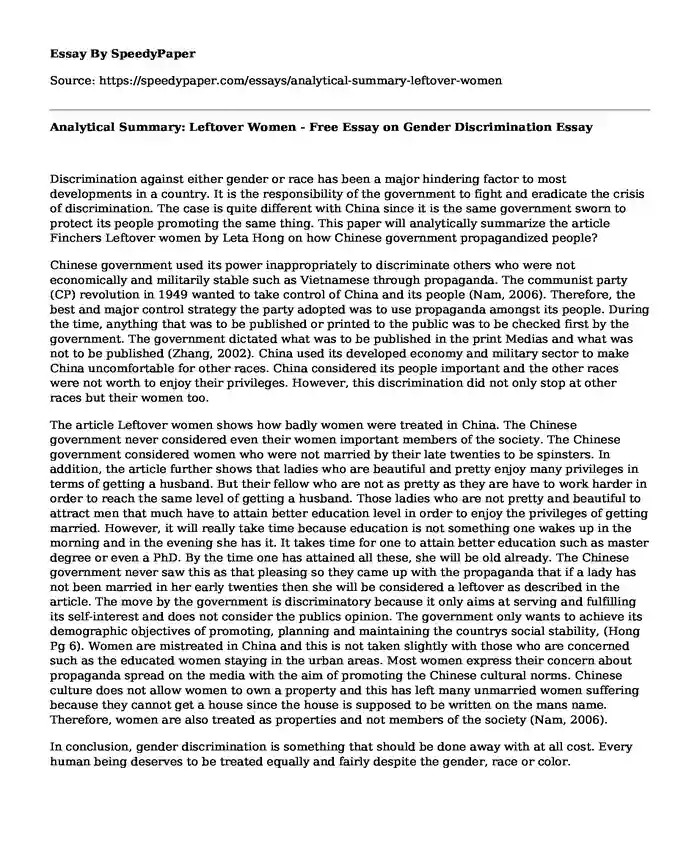 Conclusion
Writing an analytical essay is a challenging, daunting, and time-consuming undertaking that requires maximum attention to detail, determination, and competence. Nonetheless, if you follow the guidelines and specifications mentioned in the paper, you are likely to increase your chances to thrive with the project, even though you may have zero experience in academic writing. Start with a meaningful topic, create an outline, mind the structure of the essay, and deal with its grammar excellence, and you get an opportunity to come up with a flawless and consistent paper worth the highest grade.
At the same time, it is critical to emphasize that lots of students still feel insecure about analytical essay writing. While some of them lack time to complete of the project, others simply cannot follow guidelines and write a comprehensive paper. Fortunately, the struggle is real, and there is always a chance to get the most challenging paper done by professionals. Browse the SpeedyPaper page to find lots of exclusive sample papers, detailed guidelines on how to write a persuasive essay, analytical papers, and other types of academic projects, and get custom assignments done within the specified time.
Contact the representatives of the support team to get answers to all the questions that bother you. Be attentive to details as you proceed to the ordering process. Mention as many requirements as possible so that the writer creates the paper that will satisfy your academic needs and preferences.
FAQs
What is the purpose of an analytical essay?
An analytical essay is a type of academic writing that is aimed at the analysis of a specific topic. The writer's task is to summarize certain works or ideas, highlighting individual perspectives on the theme. Thus, the purpose of the project is to develop and advance students' analytical thinking and ability to make reasonable and sound conclusions.
How to start an analytical essay?
Before you start writing an analytical paper, you should come up with a meaningful topic. Focus on the themes that seem appealing and interesting for you and the audience. Then, take your time to analyze the information you find in credible data sources and brainstorm ideas.
How to structure an analytical essay?
The analytical essay outline is one of the most important elements that can speed up the work and draw writers closer to the desired effects. Follow the traditional structure of academic papers to come up with a flawless, logical, and consistent paper that will be easy to read and comprehend.
How to write a thesis for an analytical essay?
The thesis statement is a final sentence included in the introductory passage, and its aim is to summarize your perspective on the question under discussion. Therefore, you should be ultimately specific and accurate while working on this part of your essay.
How to write a hook for an analytical essay?
Grabbing the reader's attention may not be easy, but it is critical. Check out a few sample papers to detect effective tools and instruments other writers use for the achievement of the desired results. Follow the guidelines and use of the most appealing and effective tips so that you can keep the readers interested in the topic and your points of view.
How to write a conclusion for an analytical essay?
The conclusion should be concise and short. Reiterate the thesis statement and mention the key aspects specified in the paper. Encourage people to continue studying the theme, bringing light to new aspects of the question.
How to be analytical in writing?
Being analytical is not easy, but possible. Pay attention to details and learn to describe them critically so that you can notice how your analytical skills are growing.