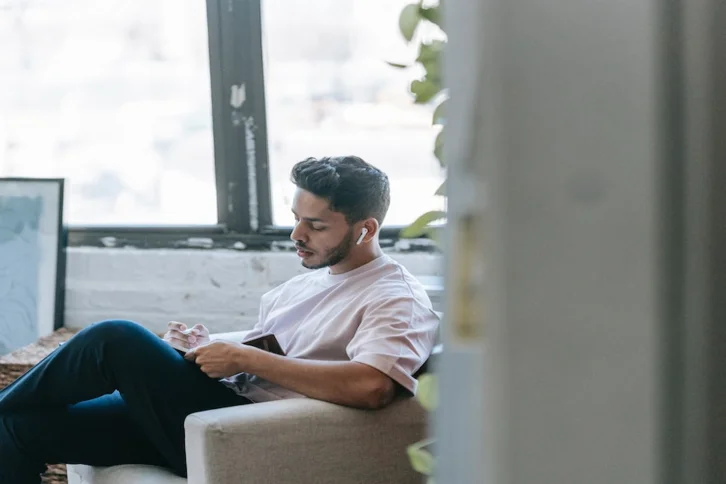 How to write a compare and contrast essay + topic examples
PS4 or Xbox One? It's a question that blew the minds of gamers around the world. Even Sheldon Cooper could not choose. But if you put all arguments in favor of either of the gaming systems in writing, you'll have completed your compare and contrast assignment even without hiring a knowledgeable
essay assistant
. At the same time, getting
help with paper
is not always a bad idea. If you feel unable to succeed with it, making sound statements and detecting reasonable facts, you should better entrust your success to professionals. 
It seems simple at first glance. All you need to do is compare the differences and similarities between two or more subjects. Still, if your ambition is to get an A+, you will need to look beneath the surface and analyze what you see to get a powerful paper. Not to worry, we are here to guide you through the process step-by-step. However, if you are only here for the outstanding compare and contrast essay ideas, skip to the last section of this article.
What is a compare and contrast essay?
Compare and contrast essay is one of the most common academic projects students have to work on. However, only a few learners know the basic features and peculiarities of the essay type, which makes them struggle with its completion. In fact, a compare and contrast definition is quite simple, as the main idea of the paper is to examine more than two matters, highlighting their similarities and emphasizing discrepancies.
Striving to succeed with the project, the student should analyze both elements, paying due attention to their characteristics and specifications. Excellent structure, relevant information, and proper formatting are also critical parts of the essay type.
Tip from SpeedyPaper:
Take your time to deal with the definitions and specifications of the essay type before you proceed to its writing. It will contribute to the quality of the essay.
How to write a compare and contrast essay
Writing a compare and contrast essay is difficult if you don't apply the right organization tools. Once you choose the topic and the subjects to compare, you will be bogged down in dozens of aspects. To get past this hurdle, use a Venn diagram. Just draw two overlapping circles and title them according to your comparison subjects. Note the similar aspects in the overlapping section of the chart and leave the independent parts of the rings for differences. This simple exercise will help you visualize the points you could make and choose the most significant among them.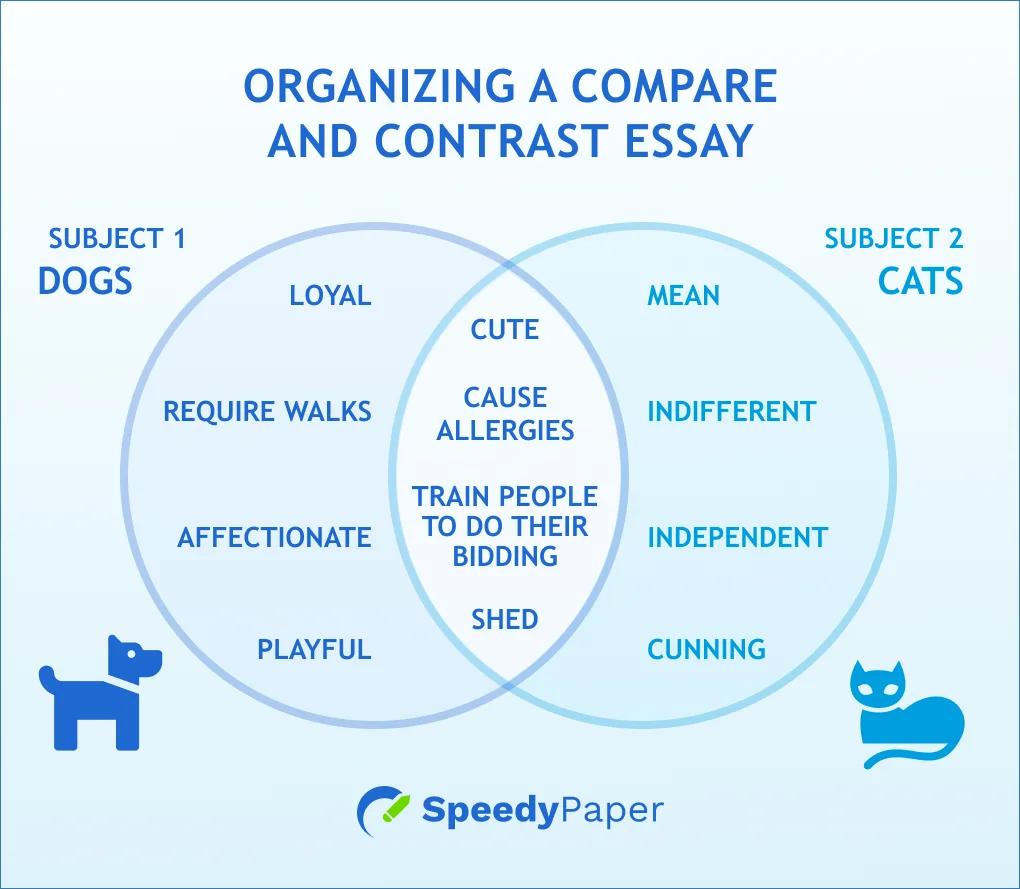 Choose two objects to compare and contrast
Working on the compare and contrast essay, it is indispensable to acknowledge the main idea of the writing. The student's task is to analyze the specifications and characteristics of two different objects, emphasizing their similarities and discrepancies. Thus, before you dive into the writing process, you should pick the subjects to compare and contrast.
Although it sounds easy, it requires some time and effort to make the right choice. Here are a few tips that will draw you closer to the desired result.
Focus on the subjects within one "category" but with prominent differences in their characteristics.
Consider talking about completely different-looking subjects that have a lot in common.
Compare and contrast subjects that seem similar but are completely different.
Brainstorm the topic
Once you have settled on the topic of your writing and selected the objects to analyze in your compare and contrast essay, it is the right time to start the brainstorming phase. Here you need to make maximum effort to single out all the similarities and differences of the selected items, as it will make your future essay writing much simpler. Besides, understanding the specifications of both elements will help you determine the aspects to emphasize, which will lead to a well-formulated thesis.
Tip from SpeedyPaper:
Profound research and thorough brainstorming are the only ways to provide readers with expert ideas. Focus on relevant information taken from credible data sources.
What are the best brainstorming techniques? A Venn diagram is always a good choice, which is beneficial for people who prefer visual images for information perception. Alternatively, making a list of qualities to compare and contrast is also a good idea.
Develop a thesis statement
The next step the student working on compare and contrast essay should take is creating a thesis statement. The main idea of this paper part is to give reasons why the objects should be compared and contrasted in the first place. Besides, the writer should make sure the results of the comparison and the prominence of the contrast are introduced.
In fact, the thesis statement is the final part of the introductory passage that is aimed at heating the interest in the paper. It should be concise, clear, and comprehensive. Name the subjects you compare and contrast, making assertions about their similarities and discrepancies. It should be a meaningful sentence that emphasizes the purpose of the compare and contrast essay writing.
If you lack ideas or skills on how to create a reasonable thesis statement, here are a few ideas that may help you succeed with the undertaking:
Explain why one object is more beneficial and desirable than the other
Encourage readers to compare the subjects
Specify the basic discrepancies that matter for the subject functioning and efficiency
Decide on a structure
Finally, when you are done with the introductory part of your compare and contrast essay, you are ready to proceed to its writing. The body part is the biggest and the most informative one, so it is indispensable to structure and format it right. Traditionally, there are multiple academic writing rules applicable to any paper. Do not forget to divide your passage into paragraphs, each introducing one statement with corresponding evidence. A reasonable link between body parts is also inevitable, so consider including transition sentences or phrases. Include real-life examples, charts, up-to-date statistics, and other elements that will make your body passage influential and credible.
Apart from the general recommendations, there are multiple tips on how to structure a compare and contrast essay. At this point, one should mind the three most common patterns used for this type of academic writing. Although the content may remain the same, the organization of the information in the text may contribute to the essay's readability a lot.
Block method. It is also known as a subject-by-subject method, which presupposes the logical succession of the text divided topically. Thus, you first deal with one subject, then move to another, which helps to keep the essay easy to read and comprehend.
Alternating method. This is a different method, the main idea of which is to switch back and forth, talking about certain points. You do not focus on one subject at a time but choose a specific characteristic, comparing and contrasting it in discussed subjects.
Similarities and differences. Finally, the last way to structure this type of paper is by presenting the comparison part first and making it followed by contrast aspects.
Compare and contrast essay outline
Have you already decided on the method you want to use in your compare and contrast essay? Have you collected the basic information on the topic? Have you discovered the most relevant facts from credible sources? If you are done with all the pre-writing steps, you should consider creating a comprehensive and consistent compare and contrast essay outline.
Tip from SpeedyPaper:
Every little detail matters here. Make sure you create a well-structured essay skeleton, so you can deal with the paper writing fast.
Although its prominence is frequently underestimated, it is the exact point that aids your writing process, guiding you and keeping the essay structure impeccable. Irrespective of the structure of the essay you choose, there are multiple paper parts that cannot be skipped.
Introduction. Compare and contrast essay writing starts with the introductory passage aimed to provide the readers with background information and state the purpose of the analysis. Make sure you include the thesis statement that plays a decisive role in the relevance of the essay.
Body. The more details, evidence, and claims you include here, the better. At the same time, one should not forget about the flawless organization of the body part, which is also critical.
Conclusion. Reiterate the thesis statement, reminding readers of the basic features of the matter under discussion. Do not include any new information, but rather encourage the audience to keep analyzing the field.
Compare and contrast essay introduction
The first paragraph should introduce the readers to the subjects of your comparison and outline the theme or idea of the paper. Beside a titillating hook, you need to develop a strong thesis statement. It's not enough to state that Xbox One and PS4 are similar in some aspects, yet different in others. Instead, show why the readers should care or why the topic is so important to have caught your attention.
Compare and contrast essay body
There are two ways to structure the body paragraphs of this paper. You can devote separate paragraphs to different subjects, showing their differences and complete the body with a paragraph on their similarities.
You can also go point-by-point. In this case, each passage will be devoted to a single aspect, e.i. gaming system design, specs, prices or a variety of games. Every paragraph will determine the differences and similarities of the subjects on one point.
Whichever structure you choose, remember to support your statement of facts with examples and analysis. Explain, why the subjects might be similar in a particular aspect and the influence their differences might have. For instance, if Xbox One comes with Kinect, gamers won't have to spend extra money on it.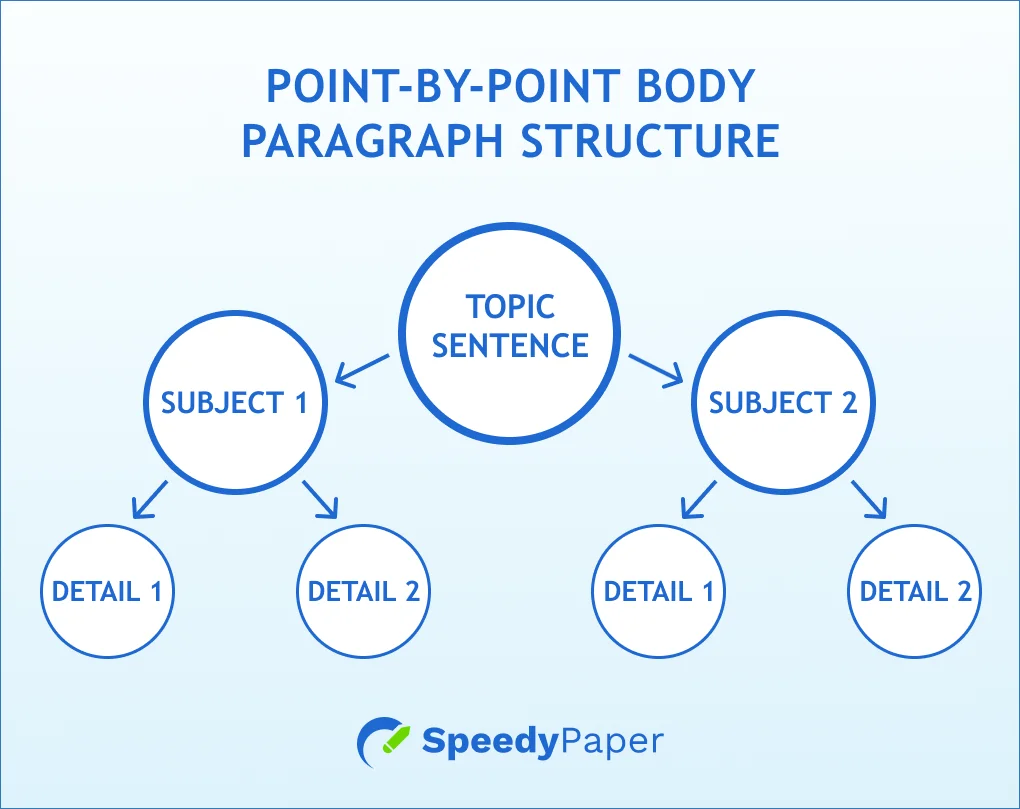 Compare and contrast essay conclusion
As always, paper's conclusion should bring you full circle back to your thesis statement. If it doesn't, you must be doing something wrong. The final paragraph should include a summary of the critical points, the evaluation of the evidence and the significance of the topic. In other words, you get one last chance to explain to the audience what your analysis means and why should the similarities or differences matter.
In some cases, you might also include a personal recommendation, if your professor allows it. For example, if you compare two books or movies, you could state which one you prefer, and you think your readers might enjoy.
The finishing touches
Outlining and writing might seem like the hardest stages of the process, but they have nothing on editing and proofreading. Before you submit your essay, let it rest for a day and come back to go through it with a critical eye. First, look for inconsistencies and disruptions in your paper's flow. Ruthlessly delete sentences and words that don't add to the purpose of the paper and add new examples. Ensure there are enough transitions within paragraphs and between them. Finally, proofread the paper using specialized software or your friend's fresh eyes.
Good compare and contrast essay topics
We've collected an assortment of intriguing subjects for your paper and sectioned them according to academic level. Some topics come with compare and contrast essay examples from our database. Check them out if you need a little inspiration boost.
Tip from SpeedyPaper:
Choosing a compare and contrast essay topic, you should pay attention to its relevance. However, do not forget that it should also be appealing and interesting for you.
Compare and contrast essay topics for college students
The effect of the Great Depression and the Great Recession on the US economy
IT giants showdown: Microsoft versus Apple
Bernini's David versus Michelangelo's David
The concepts of beauty in Western and Eastern cultures
Propaganda in Russia today vs. Cold war propaganda
Compare and contrast essay topics for high school
Biodiesel, ethanol or gasoline. Which is the most eco-friendly?
Are online relationships less stable than real-life ones?
Are marriage and cohabitation similar?
How to tell the difference between religion and cult
The difference between iOS and Android mobile devices
Compare and contrast essay topics for middle school
Do airbags or seat belts make the cars safer?
Should governments invest in solar or wind energy?
The Hobbit. Book or movie adaptation?
Everyday lives of schoolchildren now vs. 19th century
Why Democrats and Republicans will never see eye-to-eye
Compare and contrast essay writing tips
Mastering the art of penning down a stellar compare-and-contrast essay starts with choosing captivating
compare and contrast essay topics
. This selection is as vital as understanding
MBA essay writing
, each presenting unique challenges. It's all about examining similarities and differences in a manner that engages the reader.
So choose subjects with shared aspects, yet distinct enough for an engaging comparison. Organize your points for clarity and coherency; alternating or blocking methods could help. Use connecting words like "similarly" and "on the other hand" to enhance readability. And craft your thesis statement smartly to reflect the purpose of the comparison.
Compare and contrast essay example
The last thing you should do before writing a consistent and well-structured paper is read and analyze a compare and contrast essay example. Relevant writing ideas, effective techniques and inspirational elements will help you succeed with the project stress-free. 

Conclusion
Writing a compare and contrast essay becomes simpler and faster with the help of a comprehensive guide and an extensive database of paper topics. However, browsing the SpeedyPaper page, you will detect an array of other beneficial aspects that will advance the quality of your writing to a completely new level. 
Do you have no idea how to write an argumentative essay? Do you struggle with the completion of the compare and contrast essay introduction? Contact customer support and let the professionals do their job. The experts will provide you with top-tier quality essays from scratch.