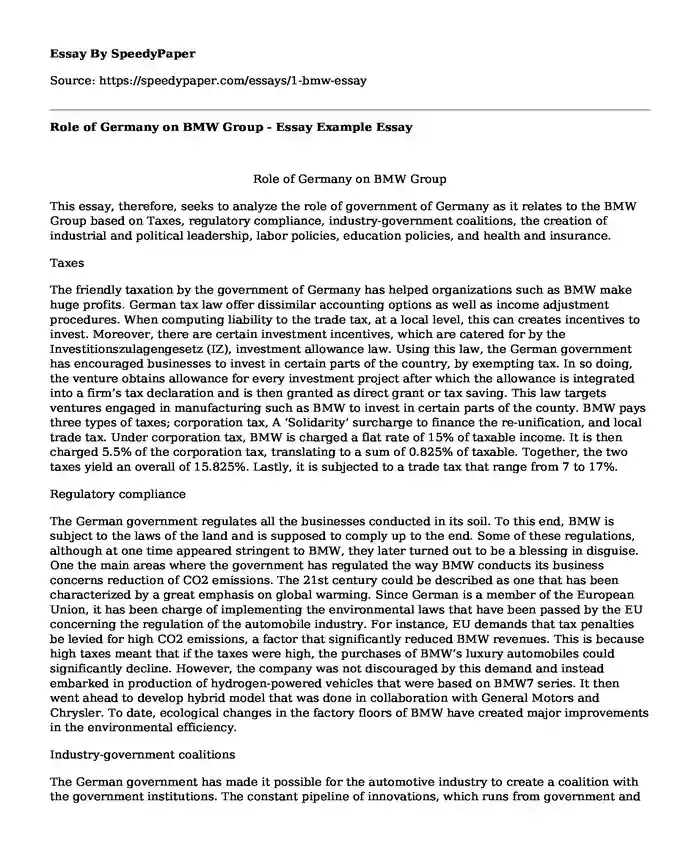 Role of Germany on BMW Group
This essay, therefore, seeks to analyze the role of government of Germany as it relates to the BMW Group based on Taxes, regulatory compliance, industry-government coalitions, the creation of industrial and political leadership, labor policies, education policies, and health and insurance.
Taxes
The friendly taxation by the government of Germany has helped organizations such as BMW make huge profits. German tax law offer dissimilar accounting options as well as income adjustment procedures. When computing liability to the trade tax, at a local level, this can creates incentives to invest. Moreover, there are certain investment incentives, which are catered for by the Investitionszulagengesetz (IZ), investment allowance law. Using this law, the German government has encouraged businesses to invest in certain parts of the country, by exempting tax. In so doing, the venture obtains allowance for every investment project after which the allowance is integrated into a firm's tax declaration and is then granted as direct grant or tax saving. This law targets ventures engaged in manufacturing such as BMW to invest in certain parts of the county. BMW pays three types of taxes; corporation tax, A 'Solidarity' surcharge to finance the re-unification, and local trade tax. Under corporation tax, BMW is charged a flat rate of 15% of taxable income. It is then charged 5.5% of the corporation tax, translating to a sum of 0.825% of taxable. Together, the two taxes yield an overall of 15.825%. Lastly, it is subjected to a trade tax that range from 7 to 17%.
Regulatory compliance
The German government regulates all the businesses conducted in its soil. To this end, BMW is subject to the laws of the land and is supposed to comply up to the end. Some of these regulations, although at one time appeared stringent to BMW, they later turned out to be a blessing in disguise. One the main areas where the government has regulated the way BMW conducts its business concerns reduction of CO2 emissions. The 21st century could be described as one that has been characterized by a great emphasis on global warming. Since German is a member of the European Union, it has been charge of implementing the environmental laws that have been passed by the EU concerning the regulation of the automobile industry. For instance, EU demands that tax penalties be levied for high CO2 emissions, a factor that significantly reduced BMW revenues. This is because high taxes meant that if the taxes were high, the purchases of BMW's luxury automobiles could significantly decline. However, the company was not discouraged by this demand and instead embarked in production of hydrogen-powered vehicles that were based on BMW7 series. It then went ahead to develop hybrid model that was done in collaboration with General Motors and Chrysler. To date, ecological changes in the factory floors of BMW have created major improvements in the environmental efficiency.
Industry-government coalitions
The German government has made it possible for the automotive industry to create a coalition with the government institutions. The constant pipeline of innovations, which runs from government and university research labs to manufacturers like BMW is the secret behind the booming BMW Group economy. BMW Group has remained internationally competitive because its products such as the BMW i3 are compete with science and innovation. The close partnership between the BMW's high-tech factory floor and research at universities has been the main ingredient for channeling this research out of the BMW's lab into the market. This atmosphere created by the German government has made it possible for BMW to approach universities with exact problems they want solved. For instance, at the Technical University of Munich (TUM), BMW has tens of Ph.D. students on its workforce; their dissertation projects comprise the preproduction research for the BMW i3.
Creation of industrial and political leadership
Since Germany is a technological leader, it encounters international competition to acquire raw materials. To this end, the government offers political support to help ensure that BMW enjoy the same requirements on global commodities markets as its competitors. The German government has a worldwide network of dedicated information and contact points to steer its national economic interests in foreign countries, comprising of the bilateral chambers of commerce, Federal Foreign Office in addition to its foreign missions, as well as Germany Trade and Invest. BMW make thorough and successful use of such major players in the country's system of external economic support. By doing so, Germany plays a big role in the creation of industrial and political leadership of BMW.
Education Policies
The education system in German is one that is meant to prepare learners to get vocational training required in the manufacturing companies such as BMW. For instance, in the tertiary level, students who aspire to join the manufacturing industry can choose
Fachhochschulen or Universities of Applied Sciences. Moreover, in Germany, the training in vocational courses is regulated by Vocational Training Act of 23 March 2005. Further, in 2006, the German industry finalized a MOU called the Apprenticeship Pact where companies promised to offer training opportunities to interested parties. This makes it easier for companies like BMW to recruit and train its staff.
Labor Policies
Collective bargaining is at the center of economy and social system of Germany. Fundamentally, social collaborates having no state influence negotiate working times and wages. This offers an advantage to the companies in that they are exempted this burden and therefore offers the firms the basis for stable and good work relations. Tis system of co-determination within firms decreases the likelihood for conflicts as well as saves a significant amount of resources, time, and effort. An important condition for independent collective bargaining is the right to association protected in the basic law, that is, the right to create associations to maintain as well as foster work in addition to economic conditions. Practically, these co-determiners are trade unions and employer associations representing employee and employers respectively. Currently, there is a provision requiring the drawing of a contract between the employee and the employer.
Health Insurance
The government of German demands that all citizens have a health insurance. All the people who have statutory health insurance are entitled to a similar healthcare. The income level determines the premium. The law demands that all employees whose yearly income does not go above a certain amount should possess statutory health insurance. The premium is similar across all statutory insurers, that is, 14.6% of an employee's income. The insured employee and the employer split the cost, with each paying 7.3%. To this end, companies such as BMW benefit they do not have to part with huge amount of money to cover for its employees.
Bibliography
Bichta, Constantina. 2005. "Corporate Social Responsibility A Role In Government Policy And Regulation?" Centre for the study of Regulated Industries 1-100.
Ebert, Isabel. 2013. "Dissecting the miracle." The Economy 1-1.
Engqvist, H. (2016). Self-Driving Cars: Diffusion of Radical Innovations and Technology Acceptance.
Levin, Doron. 2015. "This is how BMW became the top selling luxury car company in the U.S." Fortune 1-1.
Pieper, Michael. 2006. "BMW Group, Germany: Comprehensive approach ." European Observatory of Working Life 1-1.
Quek, Eileen. 2015. "Building and Sustaining Strategy: BMW-Automobile Industry." TMC Academic Journal 1-18.
Silber Druck oHG, Niestetal. 2010. "The German Government's raw materials strategy." Energy 1-28.
Simpson, C.V.J. 2014. "The Environment for Business in Germany." A Commentary 1-110.
Stamoulakis, Dimitrios. 2009. "BMW's Approach to Global Warming and Environmental Management: Corporate Social Responsibility or Greenwashing?" Competition Forum 1-9.
Theil, Stefan. 2012. "The U.S. Could Learn from Germany's High-Tech Manufacturing." Scientific American 1-1.
Cite this page
Role of Germany on BMW Group - Essay Example. (2017, Oct 27). Retrieved from https://speedypaper.net/essays/1-bmw-essay
Request Removal
If you are the original author of this essay and no longer wish to have it published on the SpeedyPaper website, please click below to request its removal: