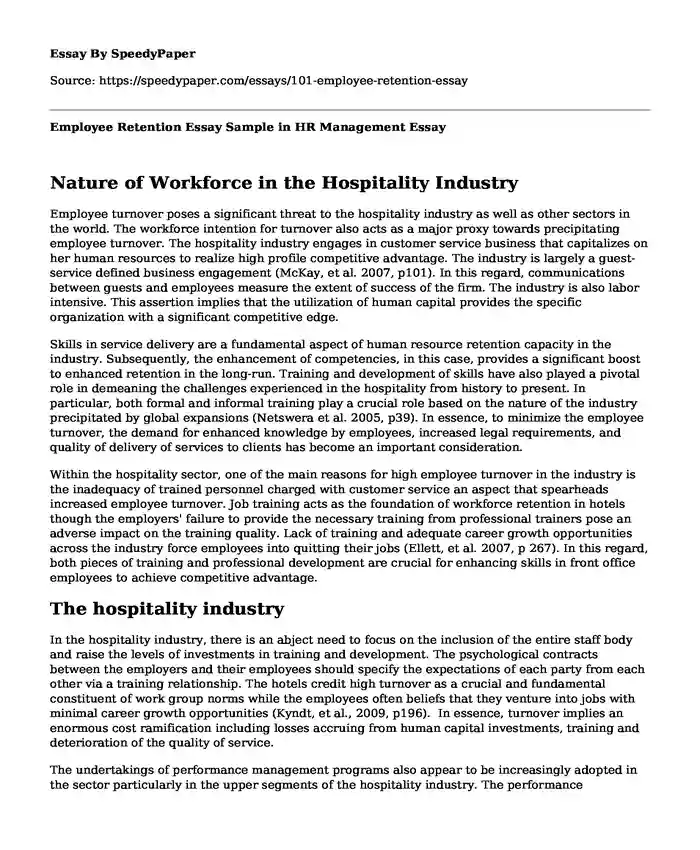 Nature of Workforce in the Hospitality Industry
Employee turnover poses a significant threat to the hospitality industry as well as other sectors in the world. The workforce intention for turnover also acts as a major proxy towards precipitating employee turnover. The hospitality industry engages in customer service business that capitalizes on her human resources to realize high profile competitive advantage. The industry is largely a guest-service defined business engagement (McKay, et al. 2007, p101). In this regard, communications between guests and employees measure the extent of success of the firm. The industry is also labor intensive. This assertion implies that the utilization of human capital provides the specific organization with a significant competitive edge.
Skills in service delivery are a fundamental aspect of human resource retention capacity in the industry. Subsequently, the enhancement of competencies, in this case, provides a significant boost to enhanced retention in the long-run. Training and development of skills have also played a pivotal role in demeaning the challenges experienced in the hospitality from history to present. In particular, both formal and informal training play a crucial role based on the nature of the industry precipitated by global expansions (Netswera et al. 2005, p39). In essence, to minimize the employee turnover, the demand for enhanced knowledge by employees, increased legal requirements, and quality of delivery of services to clients has become an important consideration.
Within the hospitality sector, one of the main reasons for high employee turnover in the industry is the inadequacy of trained personnel charged with customer service an aspect that spearheads increased employee turnover. Job training acts as the foundation of workforce retention in hotels though the employers' failure to provide the necessary training from professional trainers pose an adverse impact on the training quality. Lack of training and adequate career growth opportunities across the industry force employees into quitting their jobs (Ellett, et al. 2007, p 267). In this regard, both pieces of training and professional development are crucial for enhancing skills in front office employees to achieve competitive advantage.
The hospitality industry
In the hospitality industry, there is an abject need to focus on the inclusion of the entire staff body and raise the levels of investments in training and development. The psychological contracts between the employers and their employees should specify the expectations of each party from each other via a training relationship. The hotels credit high turnover as a crucial and fundamental constituent of work group norms while the employees often beliefs that they venture into jobs with minimal career growth opportunities (Kyndt, et al., 2009, p196). In essence, turnover implies an enormous cost ramification including losses accruing from human capital investments, training and deterioration of the quality of service.
The undertakings of performance management programs also appear to be increasingly adopted in the sector particularly in the upper segments of the hospitality industry. The performance management techniques include employees' performance appraisals should be a progressive process that must be undertaken to resolve psychological considerations of tapping into feedback and reward aspects. The recognition of specific job roles, just evaluation procedures, and fairness in the distribution of both monetary and non-monetary rewards constitutes some of the main factors that leverage the contract making aspects of performance management (Arnold, 2005, p 138).
Workforce Retention Methods
Based on the above attributes of the hospitality industry, different aspects force turnover in the industry that can be manipulated via a series of interventions. In particular, organizations have been faced with the challenge of choosing between either investing more on fine-tuning recruitment strategies or paying more attention to retaining their existing talents (Reiche, 2008, p53). Nonetheless, the hiring of new staffs is inarguably expensive, time-consuming and stressful. Nevertheless, once a company has good and competent staffs, it pays to retain them. It is important to note that what lures an individual into a given job differs immensely from what retains them there. Although salary is a major consideration regarding potential employees, better payments alone cannot maintain them in a job (Gentry, et al. 2007, p 1008). Other advantageous issues beyond compensations also attract good employees. In the modern world, employees have been looking for career packages such as comfortable company cultures, diversities of responsibilities and the general work-life balance.
For instance, the communication between individuals with an organization is a significant aspect that can promote retention of the workforce. In the hotel industry, communication is fundamental as employees provide front office-based services where client-employers contact is essential. Lack of effective communication is dangerous to the undertakings of a hospitality firm. Training plays a central role in fostering communication between the client and the employees. Besides, training employees enhance their senses of value (Hong, et al. 2012, p78). Besides, through training, the employers can assist their employees to realize their goals with a solid understanding of job requirements.
Another crucial process of enhancing job retention is the provision of mentorship programs or services to employees. The mentoring programs are integrated via goal-oriented systems of feedback that provide structured procedures for developing the formidable relationship in an organization. Besides, it offers a solid foundation for the growth and retention of employees. Within the hotel industry, workforce diversity is a crucial element that promotes effective service delivery. However, diversity in isolation cannot provide high-profile services to the clients (Monsen, et al. 2009, p67). The employees should be mentored to align them to the specific organization needs. Long-serving and compete employees are paired with their short-serving and less competent employees to promote inter-party socialization that helps mentor individuals to improve service delivery (Chiboiwa, et al. 2010). This process must, however, be grounded in the special organizational culture that is central to higher achievements in the long-run. These mentorship ideal are developed with the intent of developing unique competencies and provide performances feedbacks towards designing individualized career development plan.
Communication is also an important process of enhancing employees' retention in an organization. In particular, regardless of the size of the organization, communication is central to the development and maintenance of credibility. The majorities of employers receive communications through the advisory council that solicits and obtain opinions and suggestions, then pass them to the upper management (Deery, 2008, p794). For the employees to reap big from the company's service delivery processes, they must realize that employers listen and respond to their inputs. The creativity of the employees in the hospitality industry is in no doubt an important aspect of enhanced social development in the sector. Besides, Individuals must develop clear safeguards against social development and attributes of growth within an organization that reflects on good governance and an active focus on the quality of services (Samuel, et al. 2009). The employers must show appreciation of their employees through the placement of compensation and other benefits.
Other scenarios in the industry include the hiring of temporary workers which limits the lifespan of individual employees in an organization. Temporary workers negatively affect the client-workers' relationship as it reduces the contact period between employees and their customers. Increased hiring of permanent workforce hiring increase the prospects of developing real customers' relationship as it promotes the contact period between clients and specific workers, which is an important consideration in the industry. Some customers develop special insights and attractions towards specific workers who offer the best and customized services (Hausknecht, et al. 2009, p107). Subsequently, these ideal promote inclusion and quality of service delivery which in turn enhances employees' retention by the firm.
Permanent employees
Such hiring of permanent employees also promotes referrals and recruitment within the confines of the organization physical locations. Increased employees' experiences in a company increase their loyalty to the organization. Subsequently, this aspect may promote referrals and help in minimizing confusions attributed to expectations of the job. The current workforce ca provide a realistic description of their positions and the surroundings to individuals they are referring to an organization. Hiring from within could also mitigate the impact f high employee turnover. This scenario is subject to the fact that the current employees understand that ultimate roles and importance within the organization. Eventually, this process limits the employees' migration and enhances continuous service delivery (Cardy, et al. 2011, p214).The employer must ensure that they make employees feel valued with utmost zeal to enhance their positions in the workplace.
Employees-client contacts are principal aspects of the workers' retentions prospects in the hospitality industry. For the employees to deliver quality services, employers must seek to reduce chances of distress that could be attributed to overworking besides creating a work/life balance. The work of employees must be matched with potential benefits. These undertakings could be provided through the provision of nontraditional work schedule including telecommuting and compressed work among others (Patel, et al. 2012, p206).
Finally, it is clearly shown that the hospitality industry must galvanize strategies that ensure adoption of proactive retention strategies to promote employees' retention. Motivation-building strategies are essential in improving service delivery while limiting turnover to unavoidable scenarios like retirements or death. Listening to employees' opinions and according them the necessary attention with performance-based rewards enhances their loyalty to the firm and promote their stay within the firm. Workforce retention is a major tool for enhancing continuous productivity in the hospitality industry that promotes productivity in the long-run, based on the labor-intensive nature of the industry.
References
Arnold, E. (2005). Managing human resources to improve employee retention. The Health Care Manager, 24(2), 132-140.
Cardy, R. L., & Lengnick-Hall, M. L. (2011). Will they stay or will they go? Exploring a customer-oriented approach to employee retention. Journal of Business and Psychology, 26(2), 213-217.
Chiboiwa, M. W., Samuel, M. O., & Chipunza, C. (2010). An examination of employee retention strategy in a private organisation in Zimbabwe. African journal of business management, 4(10), 2103.
Deery, M. (2008). Talent management, work-life balance and retention strategies. International Journal of Contemporary Hospitality Management, 20(7), 792-806.
Ellett, A. J., Ellis, J. I., & Westbrook, T. M. (2007). A qualitative study of 369 child welfare professionals' perspectives about factors contributing to employee retention and turnover. Children and youth services review, 29(2), 264-281.
Gentry, W. A., Kuhnert, K. W., Mondore, S. P., & Page, E. E. (2007). The influence of supervisory-support climate and unemployment rate on part-time employee retention: A multilevel analysis. Journal of Management Development, 26(10), 1005-1022.
Hausknecht, J. P., Rodda, J., & Howard, M. J. (2009). Targeted employee retention: Performancebased and jobrelated differences in reported reasons for staying. Human Resource Management, 48(2), 269-288.
Hong, E. N. C., Hao, L. Z., Kumar, R., Ramendran, C., & Kadiresan, V. (2012). An effectiveness of human resource management practices on employee retention in institute of higher learning: A regression analysis. International journal of business research and management, 3(2), 60-79.
Kyndt, E., Dochy, F., Michielsen, M., & Moeyaert, B. (2009). Employee retention: Organisational and personal perspectives. Vocations and Learning, 2(3), 195-215.
McKay, P. F., Avery, D. R., & Hebl, M. R. (2007). Racial differences in employee retention: Are diversity climate perceptions the key?. Personnel psychology, 60(1), 35-62.
Moncarz, E., Zhao, J., & Kay, C. (2009). An exploratory study of US lodging properties' organizational practices on employee turnover and retention. International Journal of Contemporary Hospitality Management, 21(4), 437-458.
Monsen, E., & Wayne Boss, R. (2009). The impact of strategic entrepreneurship inside the organization: Examining job stress and employee retention. Entrepreneurship Theory and Practice, 33(1), 71-104.
Netswera, F. G., & Rankhumise, E. M. (2005). Employee retention factors for South African higher education institutions: A case study. SA Journal of Human Resource Management, 3(2), 36-40.
Patel, P. C., & Conklin, B. (2012). Perceived labor productivity in small firms—the effects of highperformance work systems and group culture through employee retention. Entrepreneurship Theory and Practice, 36(2), 205-235.
Reiche, B. S. (2008). The configuration of employee retention practices in multinational corporations' foreign subsidiaries. International Business Review, 17(6), 676-687.
Samuel, M. O., & Chipunza, C. (2009). Employee retention and turnover: Using motivational variables as a panacea. African journal of business management, 3(9), 410.
Cite this page
Employee Retention Essay Sample in HR Management. (2019, Mar 28). Retrieved from https://speedypaper.net/essays/101-employee-retention-essay
Request Removal
If you are the original author of this essay and no longer wish to have it published on the SpeedyPaper website, please click below to request its removal: