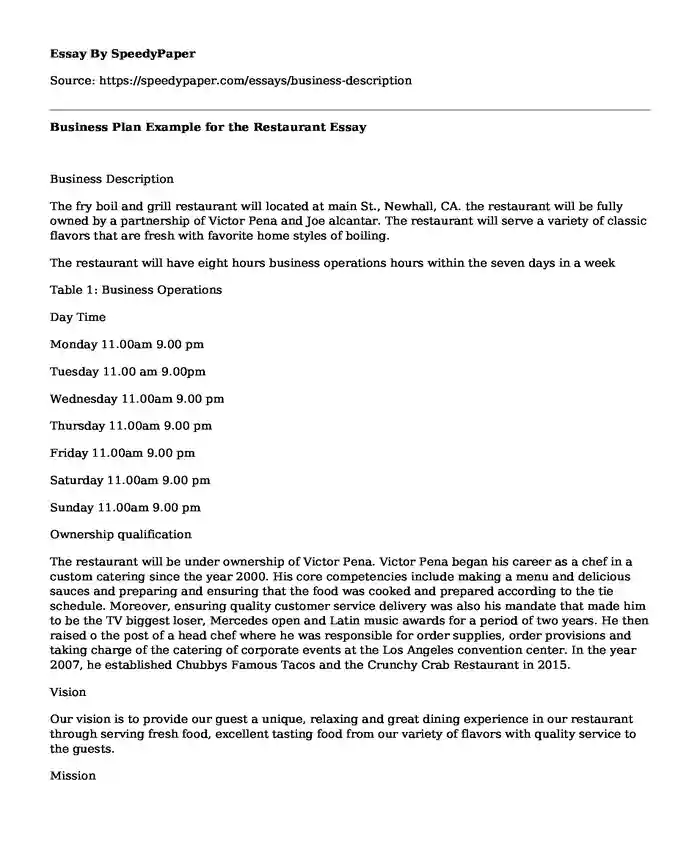 Business Description
The fry boil and grill restaurant will located at main St., Newhall, CA. the restaurant will be fully owned by a partnership of Victor Pena and Joe alcantar. The restaurant will serve a variety of classic flavors that are fresh with favorite home styles of boiling.
The restaurant will have eight hours business operations hours within the seven days in a week
Table 1: Business Operations
Day Time
Monday 11.00am 9.00 pm
Tuesday 11.00 am 9.00pm
Wednesday 11.00am 9.00 pm
Thursday 11.00am 9.00 pm
Friday 11.00am 9.00 pm
Saturday 11.00am 9.00 pm
Sunday 11.00am 9.00 pm
Ownership qualification
The restaurant will be under ownership of Victor Pena. Victor Pena began his career as a chef in a custom catering since the year 2000. His core competencies include making a menu and delicious sauces and preparing and ensuring that the food was cooked and prepared according to the tie schedule. Moreover, ensuring quality customer service delivery was also his mandate that made him to be the TV biggest loser, Mercedes open and Latin music awards for a period of two years. He then raised o the post of a head chef where he was responsible for order supplies, order provisions and taking charge of the catering of corporate events at the Los Angeles convention center. In the year 2007, he established Chubbys Famous Tacos and the Crunchy Crab Restaurant in 2015.
Vision
Our vision is to provide our guest a unique, relaxing and great dining experience in our restaurant through serving fresh food, excellent tasting food from our variety of flavors with quality service to the guests.
Mission
Our mission is to execute great ambience to dine and excellent food that makes the customer happy in our quality services and delicious food in Santa Clarita Valley.
Business Objectives
The primary objectives of the business plan the sea food restaurant includes:
To provide quality food at affordable price with exemplary services
To offer a diversity of flavors that suits the customers needs
To ensure the use of fresh ingredients
Location and Facilities
The 1,500 square foot restaurant will be located at Santa Clarita Valley. Santa Clarita Valley has total population of 334,671 with a total of 109,656 households within a radius of 7 miles. Moreover, the area has a mixture of single families and multi-family housing with AHH income of $ 105,658.
Concept and Strategy
Our concept niche is our flavors as no other boiling restaurant has our capabilities and resources and therefore makes us take pride in our flavors that are fresh. The restaurant also boasts of becoming the only restaurant that has a fusion in the area. Moreover, apart from serving the sea foods, we also serve grilled chicken salad or chicken club sandwich or jalapeno burger, surf and turf burger, soft shell crab burger. Besides, we also sell triple threat burger that contains Louisiana sausage bacon shrimp and eight ounces of Angus chunk beef. The diversification to a variety of meat for meat lovers and frozen buffalo wig flavors makes the business tip to success. The guests are assured of happy hour with great discount prices from our food and services thus making our restaurant favorite among other in Santa Clarita Valley.
Market Analysis
The restaurant is under food and beverage industry which is characterized by a diverse business environment. Restaurant industry sales are projected to reach $580.1 billion in 2010 which is an increase with 2.5% over the previous year. In 2011, the restaurant industry sales were forecasted to a total of $$604 billion, which represents a 4 percent of the U.S Gross Domestic Product. Additionally, the overall economic influence of the restaurant industry was expected to pass $1.7 trillion in the year 2011. Further, statistic shows that more than 130 million people on a typical day in America will be foodservice patrons. Besides a full service restaurant sales reached $184.2 million in 2010 while the sales at a limited service restaurant increased to $164.8 billion in the same year (National Restaurant Association).
The US restaurant industry contains about 480,000 restaurants with combined annual income of about %400 billion. Examples of the major companies in the industry include the McDonalds, YUM Brands such as Pizza, KfC and Darden Restaurants such as Red Lobster and Olive Garden. However, this industry is highly fragmented as 50 largest companies have only 20% of the market.
There are about 400 restaurants in Santa Clarita Valley and the main competitors in Santa Clarita includes; Egg Plantation, Stonefire Grill, piccolo Trattoria, Wood Ranch BBQ & Grill among others.
Basically, the industry entails the full-service restaurants (FSR) and quick service restaurants (QSR) for instance, cafeterias, buffets, snack bars and non alcoholic beverage bars. Demands in the industry are driven by the demographics, consumer tastes and personal income in a location. The industry is also labour intensive and while large food companies have benefits in procurement, finance, and marketing, small companies will likely to offer superior quality food and service.
Management & Operation Assessment
Organizational Structure
The sea food restaurant expects to employ 19 workers. Victor Pena and Joe alcantar will together select each qualified candidate. The two have adopted an effective interview and selection process developed for the staff restaurant that will ensure highly qualified and experienced personnel for each position are hired. Each job applicant will pass through evaluation and rating according to set standards designed for every position.
Management Team Gaps
At the start Victor and Joe will act in various management gaps. Moreover, with an increasing turnover of help for startup restaurants, we will rely on the family assist to come in where required until when we are good to go and we start making profits. However, Joe and Victor are planning to employ the sales and marketing director, a general manager, food and beverage manager and a kitchen manager.
To meet the payroll, inventory management, and cost accounting gaps, Victor and Joe will consider purchasing the POS (Point of Sale) that is meant to ease communications between the kitchen and wait staff as the orders will go through computer directly to the printer located in the kitchen. Additionally, POS system also acts as a tracker as it will track the food usage, to the most popular items in the menu. Moreover, POS reduces costs in preparations of payroll, and also helps in the daily operations of the business such as the development of profit and loss statement and sales tax.
Personnel plan
Table 2: Personnel Plan
Annual Salary Projections Year 1 Year 2 Year 3
Owners/General Manager $0 $0 $0
Accounting Assistant $16,452 $24,623 $26,345
Line Cooks $13,455 $34,325 $38,425
Prep Cooks $15,457 $36,879 $53,264
Waiters/Waitresses $10,235 $28,785 $37,265
Bookkeeper $0 $9,899 $10,215
Sales Officer $0 $19,759 $20,258
Front Office Assistant $18,789 $23,868 $28,564
Catering Employees $0 $19,258 $22,654
Total $74,388 $196,396 $236,990
Financial Management
Start-Up Costs
I have 200,000 dollars to start my business and a subsequent 10,000 dollars for the grand opening ceremony. The money has been equally contributed by the owners. However, the total start-up costs are $474,961.
Table 3: Start-Up Costs
Construction Costs Amount
Total Construction Costs $6,700
Commercial Kitchen Center Quotation 3 heavy duty fryers 40 pound capacity $1,794
1 Charbroiled 48 $688
I range 36 6 open burners $1,295
3 stock pot range $1,071
1 sandwich/salad prep refrigerator 1,691
2 three door reach in refrigerator 4,870
Total Amount $16,761
Kitchen, booths and restrooms Electrical hoods $16,000
Kitchen sinks, faucets and sprays $2,000
Stainless steel walls $2,000
Ground drains $12,000
Booths and tables $4,000
Art work and paint inside restaurant $7,000
Total Quotes of Kitchen, booths and restrooms $41,100
Grand Total Estimates $64,461
Start-Up Expenses Amount
Permits and Lease Deposits $1,200
Improvement of the Building $100,000
Outdoor sign $3,000
Graphic Logo and Name Development $1,300
Working Capital $290,000
Pre Opening Expenses $15,000
Total Start UP Expenses $410,500
TOTAL COST OF START-UP 474,961
The total amount of money required is estimated to be $474,961. Costs are inclusive of both the start up expenses and the start assets while the start expenses taking a majority of the cost of start up to $410,500 as the start up assets takes $64,461. Therefore the business is requesting for an additional amount of $264,961 after giving my contributions.
Profit and Loss Projections
With the adjustments for inflation, the following table shows the predicted profit and loss of the restaurant. The profit and loss shows the modest increase in revenues over three years.
Table 4: Profit and Loss Projections
Pro Forma Profit and Loss Year 1 Year 2 Year 3
Income Sales $1,545,422 $1,722,423 $1,998,965
Cost of Goods Sold ($263,458) ($302,250) ($150,140 )
Gross Profits $1,281,964 $1,420,173 $1,848,825
Expenses Accounting/Legal $10,000 $11,235 $11,356
Bad Debts $25,610 $26,325 $27,452
Shrinking $80,000 $82,500 $85,420
Credit Card Fees $20,400 $21,245 $21,345
Insurance $75,000 $74,545 $76,847
Miscellaneous $44,125 $45,366 $48,455
Payroll Taxes $0 $0 $0
Permits and Licenses $6,545 $7,465 $7,896
Rent $67,458 $69,458 $70,425
Salaries $13,256 $13,350 $14,450
Wages $430,458 $502,458 $510,145
Total Expenses $772,852 $853,947 $873,791
Net Profit $559,112 $566,226 975,034
Cash flow
The statement shows the restaurants incoming and outgoing cash.
Table: Cash Flow
Cash Flow Year 1 Year 2 Year 3
Cash Received Cash from Operations $148,101 $30,995 $11,402
Cash Sales $1,028,422 $1,161,443 $1,235,835
Cash from Receivables $0 $0 $0
Subtotal Cash from Operations $1,176,523 $1,192,438 $1,247,237
Additional Cash Received $189,000 Sales Tax Owners investment $174,000 Subtotal Cash Received $1,539,523 $1,192,438 $1,247,237
Expenditure Expenditures from Operations $765,113 $414,176 $426,602
Cash spent $710,176 $731,481 $753,426
Bills paid Subtotal spent on operations $1,475,289 $1,145,658 $1,180,028
Additional Cash Spent Sales Tax Loan Payment $33,240 $35,378 $37,654
Subtotal Additional Cash Spent $33,240 $35,378 $37,654
Subtotal Expenditures $1,508,529 $1,181,036 $1,217,681
Net Cash Flow $30,994 $11,402 $29,556
Cash Balance $30,994 $42,397 $71,953
Implementation Plan
We will continuously create and develop an environment which is entertaining and appealing to customers blended with unbeatable quality services fair prices. Moreover, our restaurant will provide a quiet and relaxed atmosphere to make the customers feel at home. Our customers will enjoy the mouth watering menu that offers quality food with menu items moderately priced for the area thus encourages cost savings and staying current with the existing food industry trends. Our restaurant will be the leading employer in the region by providing employment opportunities to the citizens seeking employment opportunities.
Cite this page
Business Plan Example for the Restaurant. (2019, Nov 25). Retrieved from https://speedypaper.net/essays/business-description
Request Removal
If you are the original author of this essay and no longer wish to have it published on the SpeedyPaper website, please click below to request its removal: