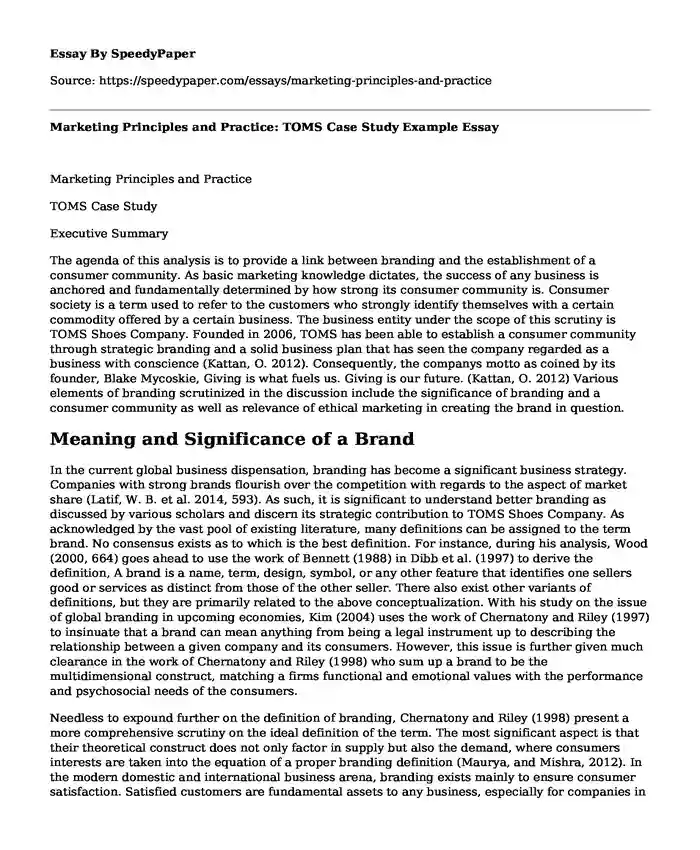 Marketing Principles and Practice
TOMS Case Study
Executive Summary
The agenda of this analysis is to provide a link between branding and the establishment of a consumer community. As basic marketing knowledge dictates, the success of any business is anchored and fundamentally determined by how strong its consumer community is. Consumer society is a term used to refer to the customers who strongly identify themselves with a certain commodity offered by a certain business. The business entity under the scope of this scrutiny is TOMS Shoes Company. Founded in 2006, TOMS has been able to establish a consumer community through strategic branding and a solid business plan that has seen the company regarded as a business with conscience (Kattan, O. 2012). Consequently, the companys motto as coined by its founder, Blake Mycoskie, Giving is what fuels us. Giving is our future. (Kattan, O. 2012) Various elements of branding scrutinized in the discussion include the significance of branding and a consumer community as well as relevance of ethical marketing in creating the brand in question.
Meaning and Significance of a Brand
In the current global business dispensation, branding has become a significant business strategy. Companies with strong brands flourish over the competition with regards to the aspect of market share (Latif, W. B. et al. 2014, 593). As such, it is significant to understand better branding as discussed by various scholars and discern its strategic contribution to TOMS Shoes Company. As acknowledged by the vast pool of existing literature, many definitions can be assigned to the term brand. No consensus exists as to which is the best definition. For instance, during his analysis, Wood (2000, 664) goes ahead to use the work of Bennett (1988) in Dibb et al. (1997) to derive the definition, A brand is a name, term, design, symbol, or any other feature that identifies one sellers good or services as distinct from those of the other seller. There also exist other variants of definitions, but they are primarily related to the above conceptualization. With his study on the issue of global branding in upcoming economies, Kim (2004) uses the work of Chernatony and Riley (1997) to insinuate that a brand can mean anything from being a legal instrument up to describing the relationship between a given company and its consumers. However, this issue is further given much clearance in the work of Chernatony and Riley (1998) who sum up a brand to be the multidimensional construct, matching a firms functional and emotional values with the performance and psychosocial needs of the consumers.
Needless to expound further on the definition of branding, Chernatony and Riley (1998) present a more comprehensive scrutiny on the ideal definition of the term. The most significant aspect is that their theoretical construct does not only factor in supply but also the demand, where consumers interests are taken into the equation of a proper branding definition (Maurya, and Mishra, 2012). In the modern domestic and international business arena, branding exists mainly to ensure consumer satisfaction. Satisfied customers are fundamental assets to any business, especially for companies in highly competitive business segments.
In the analysis presented by Wood (2000), brands remain significant as they provide the unique point of differences between companies. For instance, one of the highly competitive industries in the US is the fast food business. Besides the strong competition, a relatively strong brand both domestically and internationally has enabled McDonald's stand out. Same is the case with TOMS. As food, shoes are among the basic human needs, which makes them naturally highly competitive business commodities. The company with strong consumer incentives enjoys a larger market share. By strategically using branding in various dimensions as defined by Chernatony and Riley (1998), TOMS one for one strategy stands out. For every one pair of shoes sold, one pair is given free to the disadvantaged. This has helped consumers sentimentally get attached to the company and view their participation by buying shoes from TOMS as actions that that amount to the greater good. To Chernatony and Riley (1998), branding is an image created in the minds of the consumer, a strategy that TOMS strongly rely on (Couch, 2016).
Meaning and Significance of a Consumer Society
In analyzing its roots at the global stage, Matsuyama (2000) indicates that mass consumption societies are necessary for sustainable development. It is a two-way mechanism where the producers and consumers meet at an equilibrium phase, where the conditions available support the thriving of each category. By showing that consumer societies are a vital element in standard economic development, a lot of research on what exactly they are and the role they play has been accomplished. In a study by Smart (2010), a consumer society is conceptualized as the phenomenon where a large group of people is indicated to have a wide range of choices with regards to the exponentially expanding variety of consumer goods and services. In the current society, it is inevitable to define consumption based on the activities of a single individual. Significantly, a study by Goodwin et al. (2008) explores the idea of consumer society by adding to the notion of consumer sovereignty. Consumer sovereignty as explored by Goodwin et al. (2008) is the principal economic goal to ensure consumer satisfaction. As such, this falls in the current conceptualization where much economic value is placed on final demand of goods and services.
Consumer society is also closely associated with a consumerist culture (Kutucuoglu et al. 2013). According to Goodwin et al. (2008), people with consumerist values are indicated to view life from a different angle. Consumerist people believe that the ultimate satisfaction in life is solely based on buying and consumption of consumer goods. Economically, Matsuyama (2000) indicates that this is an aspect of significant value. Subsequently, a study by Sorensen (2013) indicates that consumption is now a vital part in defining society and culture. By putting together all these ideologies as presented by numerous scholars, it is evident that the consumer society or mass consumption has a significant economic value. Much emphasis, from the classical era, assumes that attaining economic glory is underpinned to accomplishing consumer satisfaction. TOMS as a shoe company is no outsider to the prevailing notion of mass consumption societies. By not adhering to the consumerists (mainly celebrities and other high earning spenders), TOMS concentrates on values that identify with low and middle-income consumers (Couch, 2016). The variation of canvas shoes with rubber soles that are manufactured by TOMS are not necessarily what most consumerists would prefer, but they are able to conform to the ideals of a certain section of the consumer society.
Brand Image and How It Promotes Itself
By using the work of Aeker (1991), Ghodeswar (2008) indicates that one superior benefit of having a brand is protecting both the consumer and the producer from competitors who may come up with identical products. Significantly, a successful brand is deemed as an identifiable product that is recreated in a particular manner that the consumer sees it relevant in his or her life (Zhang, 2015). A superior brand image, based on the previous comprehension, offers substantial protection to a producer with a certain number of consumers. In subsequent studies concerning building an ideal superior brand image, Anholt (2013) and Jordan, (2014) cover how a nation can superbly maintain a good business image globally. The postulations laid across by Anholt (2013) apply to multinationals and substantially larger companies such as TOMS. The factors that Anholt (2013) consider in establishing an appropriate brand image that identifies with mass consumption societies is through reputation management, sovereignty, and corporate social responsibility (CSR). However, this does not go without acknowledging that an effective brand image depends on efficient product development and aggressive marketing (Chernatony, 2010). Without these two factors, brands would not exist. With regards to sovereignty, a product that satisfies the customer automatically builds its reputation (Chernatony, 2010). Company reputation management and CSR are just added bonuses in developing a better image to the consumers (Upadhyay, 2016).
In the case of TOMS, the companys strong brand image depends on sovereignty, good reputation, and CSR as defined by Anholt (2013). TOMS produces a cheaper version of canvas shoes that are reputable for a having a consumer-certified quality. Both reputation and CSR are fulfilled through the companys policy of giving to the disadvantaged one pair of shoes for each pair that is bought. By 2017, the company has already delivered 10 million pairs of shoes to poor regions globally (Chen, 2017). These are good ideals that make TOMS stand out and appeal to the majority of the consumers.
Ethical Marketing Employed by TOMS
In addition to being economic constructs, brands are also social constructs that govern the behavior of a company. An organization that regulates its reputation on significant issues such as climate change is deemed to build a stronger reputation while the vice versa may prove to be an economic disaster, despite major attachment to social issues. In a study by Fan (2005) concerning ethical branding, the scholar indicates that managing the companys reputation remains significant. This is because consumers tend to bond with a brand on an emotional level. This means that all the activities perpetuated by a company have to lie with the accepted moral standards. In a study by Chernatony and McDonald (2003), brand represents the company policy at an advanced stage. As such, reputation can only be maintained through upholding proper standards as a company (Gray and Balmer, 1998; Pomering and Johnson, 2009; Hoeffler and Keller, 2002). With regards to the case study of TOMS, it is evident that the companys commitment to helping the disadvantaged is one of best moral undertakings the company has under its reputation (Rogers, 2016). It is a positive aspect that is deemed to be more beneficial to the consumer, knowing that when one buys a pair of shoes, one is off to help people in poor areas. It is the companys policy that has seen TOMS implement the policy in other businesses the organizations participates in (Couch, 2016).
In summary, it is significant to acknowledge the role of branding in the modern consumption patterns. Stronger brands tend to identify themselves with a larger section of the society, thus creating the phenomenon of mass consumption, which is relevant to economic development. This discussion has analyzed branding in relation to the predicament of TOMS Shoes Company. By maintaining customer satisfaction, good reputation, and CSR, TOMS has a strong brand that defines the companys policy of helping the disadvantaged. Although each company has unique mechanisms of product development and marketing, adhering to the ethical and moral code of standards creates a significantly added advantage.
References
Anholt, S., 2013. Beyond the nation brand: The role of image and identity in international relations (Monograph). Journal of Public Diplomacy, 2(1), pp. 6-12.
Chen, S. 2017. TOMS: A brand promise with purpose. [Online] Retrived from <https://www.gettagged.us/great-brands/toms-brand-promise-purpose/> [Accessed 28 Jan 2017]
Chernatony, L. and McDonald, M., 2003. Creating powerful brands: the strategic route to success in consumer, industrial, and service markets. Butterworth-Heinemann.
Chernatony, L. and Riley, F., 1998. Defining a" brand": Beyond the literature with experts' interpretations. Journal of Marketing Management, 14(5), pp.417-443.
Chernatony, L., 2010a. Creating powerful brands. London:Routledge.
Chernatony, L., 2010b. From brand vision to brand evaluation: The strategic process of growing and strengthening brands. London: Routledge.
Couch, S. 2016. 10 years later: Quick marketing and PR insight into Toms Brand Position. [Online] <https://www.trendkite.com/blog/quick-marketing-pr-insight-into-toms-brand-positioning> [Accessed 28 Jan 2017]
Fan, Y., 2005. Ethical branding and corporate reputation. Corporate communications: An international journal, 10(4), pp.341-350.
Ghodeswar, B.M., 2008. Building brand identity in competitive markets: a conceptual model. Journal of Product & Brand Management, 17(1), pp.4-12.
Goodwin, N., Nelson, J.A., Ackerman, F. and Weisskopf, T., 2008. Consumption and the consumer society. Retrieved from http://www.ase.tufts.edu/gdae/education_materials/modules/Consumption_and_the_Consumer_Society.pdf
Gray, E.R. and Balmer, J.M., 1998. Managing corporate image and corporate reputation. Long-range Planning, 31(5), pp.695-702.
Hoeffler, S. and Keller, K.L., 2002. Building brand equity through corporate societal marketing. Journal of Public Policy & Marketing, 21(1), pp.78-89.
Jordan, P., 2014. Nation branding: A tool for nationalism? Journal of Baltic Studies, 45(3), pp.283-303.
Kattan, O. 2012. TOMS: The story of a business with a conscience. [Online] Retrieved from <http://www.brandstories.net/2012/11/25/toms-story-of-a-business-with-a-conscience/> [Accessed 28 Jan 2017]
Kim, E.S., 2004. The meanings of the global brand: a perspective from the Korean consumers. Yayinlanmamis Doktora Tezi. Hawaii: University of Hawaii at Manoa.
Kutucuoglu, K.Y., Saltik, I.A., Firat, A. and Tuncel, O., 2013. Consumption, consumer culture and consumer society. Jurnalul Practicilor Comunitare Pozitive, (1), pp.182-203.
Latif, W.B., Islam, A. and Noor, I.M., 2014. Building brand resonance in a competitive environment: a conceptual model. Advances in Environmental Biology, pp.593-601.
Matsuyama, K., 2002. The rise of mass consumption societies. Journal of political Economy, 110(5), pp.1035-1070.
Maurya, U.K. and Mishra, P., 2012. What is a brand? A Perspective on Brand Meaning. European Journal of Business and Management, 4(3), pp.122-133.
Pomering, A. and Johnson, L.W., 2009. Advertising corporate social responsibility initiatives to communicate corporate image: Inhibiting scepticism to enhance persuasion. Corporate Communications: An International Journal, 14(4), pp.420-439.
Rogers, C. 2016. How Toms engaged 3.5 million people in one day. [Online] Retrieved from <https://www.marketingweek.com/2016/06/29/how-footwear-brand-toms-engaged-3-5-million-people-in-one-day-using-tribe-power/> [Accessed 28 Jan 2017]
Smart, B., 2010. Consumer society: Critical issues & environmental consequences. Sage Publications.
Sorensen, P.K., The Meaning of Consumption. <http://www.kommunikationsforum.dk/log/multimedia/PDF%20og%20andre%20dokumenter/Specialer/The_Meaning_of_Consumption_.pdf>
Upadhyay, V., 2016. The impact of brand image on consumer buying behavior: a literature review. International Journal of Higher Education Research & Development, 1(3) pp. 65-75.
Wood, L., 2000. Brands and brand equity: definition and management. Management Decision, 38(9), pp.662-669.
Zhang, Y., 2015. The impact of brand image on consumer behavior: A literature review. Open Journal of Business and Management, 3(01), p.58.
Cite this page
Marketing Principles and Practice: TOMS Case Study Example. (2017, Jul 20). Retrieved from https://speedypaper.net/essays/marketing-principles-and-practice
Request Removal
If you are the original author of this essay and no longer wish to have it published on the SpeedyPaper website, please click below to request its removal: