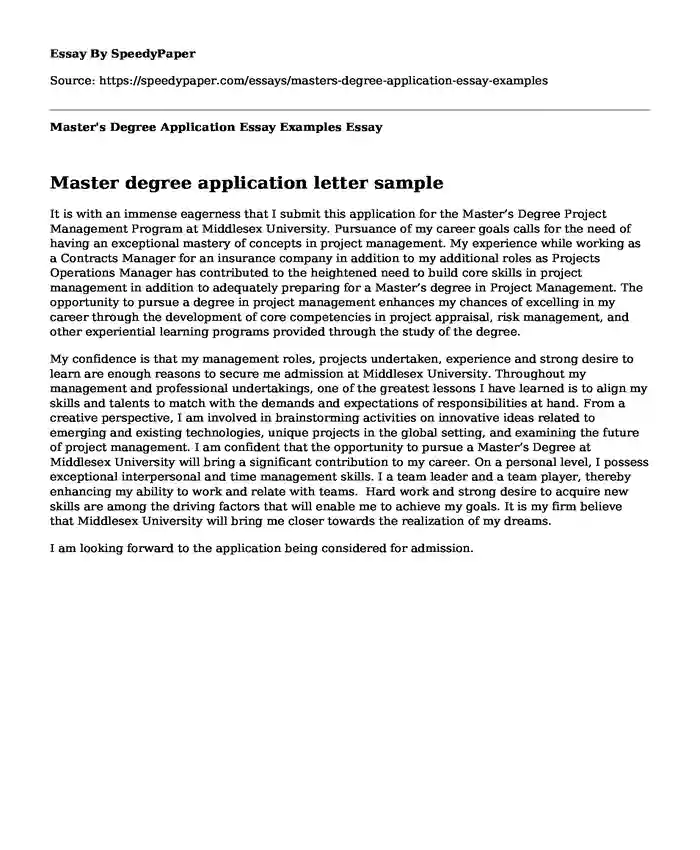 Master degree application letter sample
It is with an immense eagerness that I submit this application for the Master's Degree Project Management Program at Middlesex University. Pursuance of my career goals calls for the need of having an exceptional mastery of concepts in project management. My experience while working as a Contracts Manager for an insurance company in addition to my additional roles as Projects Operations Manager has contributed to the heightened need to build core skills in project management in addition to adequately preparing for a Master's degree in Project Management. The opportunity to pursue a degree in project management enhances my chances of excelling in my career through the development of core competencies in project appraisal, risk management, and other experiential learning programs provided through the study of the degree.
My confidence is that my management roles, projects undertaken, experience and strong desire to learn are enough reasons to secure me admission at Middlesex University. Throughout my management and professional undertakings, one of the greatest lessons I have learned is to align my skills and talents to match with the demands and expectations of responsibilities at hand. From a creative perspective, I am involved in brainstorming activities on innovative ideas related to emerging and existing technologies, unique projects in the global setting, and examining the future of project management. I am confident that the opportunity to pursue a Master's Degree at Middlesex University will bring a significant contribution to my career. On a personal level, I possess exceptional interpersonal and time management skills. I a team leader and a team player, thereby enhancing my ability to work and relate with teams. Hard work and strong desire to acquire new skills are among the driving factors that will enable me to achieve my goals. It is my firm believe that Middlesex University will bring me closer towards the realization of my dreams.
I am looking forward to the application being considered for admission.
Cite this page
Master's Degree Application Essay Examples. (2017, Oct 20). Retrieved from https://speedypaper.net/essays/masters-degree-application-essay-examples
Request Removal
If you are the original author of this essay and no longer wish to have it published on the SpeedyPaper website, please click below to request its removal: