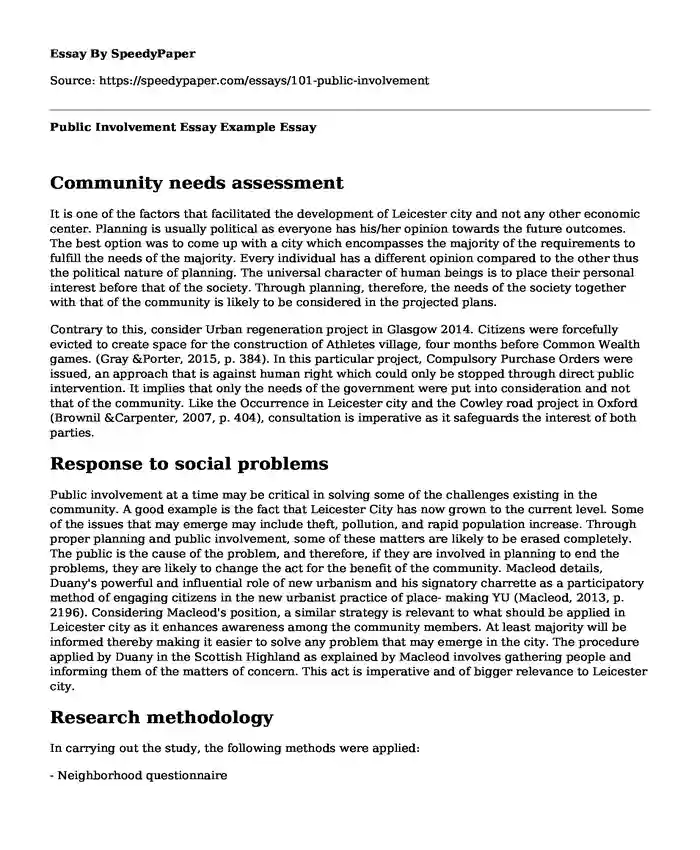 Community needs assessment
It is one of the factors that facilitated the development of Leicester city and not any other economic center. Planning is usually political as everyone has his/her opinion towards the future outcomes. The best option was to come up with a city which encompasses the majority of the requirements to fulfill the needs of the majority. Every individual has a different opinion compared to the other thus the political nature of planning. The universal character of human beings is to place their personal interest before that of the society. Through planning, therefore, the needs of the society together with that of the community is likely to be considered in the projected plans.
Contrary to this, consider Urban regeneration project in Glasgow 2014. Citizens were forcefully evicted to create space for the construction of Athletes village, four months before Common Wealth games. (Gray &Porter, 2015, p. 384). In this particular project, Compulsory Purchase Orders were issued, an approach that is against human right which could only be stopped through direct public intervention. It implies that only the needs of the government were put into consideration and not that of the community. Like the Occurrence in Leicester city and the Cowley road project in Oxford (Brownil &Carpenter, 2007, p. 404), consultation is imperative as it safeguards the interest of both parties.
Response to social problems
Public involvement at a time may be critical in solving some of the challenges existing in the community. A good example is the fact that Leicester City has now grown to the current level. Some of the issues that may emerge may include theft, pollution, and rapid population increase. Through proper planning and public involvement, some of these matters are likely to be erased completely. The public is the cause of the problem, and therefore, if they are involved in planning to end the problems, they are likely to change the act for the benefit of the community. Macleod details, Duany's powerful and influential role of new urbanism and his signatory charrette as a participatory method of engaging citizens in the new urbanist practice of place- making YU (Macleod, 2013, p. 2196). Considering Macleod's position, a similar strategy is relevant to what should be applied in Leicester city as it enhances awareness among the community members. At least majority will be informed thereby making it easier to solve any problem that may emerge in the city. The procedure applied by Duany in the Scottish Highland as explained by Macleod involves gathering people and informing them of the matters of concern. This act is imperative and of bigger relevance to Leicester city.
Research methodology
In carrying out the study, the following methods were applied:
- Neighborhood questionnaire
- Vision workshop
Neighborhood Questionnaire
Under this method, the local authority specialist prepared a door to door questionnaire foe a sampled group of people. The aim was to capture as much information as possible from the public.
Strengths
1. Large number of information collected from a big population within a short period of time hence cost effective
2. Required less manpower without distorting its validity and reliability.
3. Collected data made it easy for comparison and contrast
4. Qualitative data collected assisted in formulation of hypothesis in relation to the perceptions of the community.
Weaknesses
1. Some information could not be understood as a result of emotional influence.
2. The response may be unable to think within the context of the question.
3. The information lacked validity.
4. Response is based on the understanding of the people.
Vision Workshop
Strengths
1. Community members were able to question and seek clarifications
2. Assurance of partnership and support from the community
3. Direct interaction between the community members and project leaders
4. Focus on community demands emphasized.
Weaknesses
1. Low number of attendance by the community members
2. Few questions and clarifications made due to insufficient time.
3. One on one interaction is not possible and therefore personal issues cannot be addressed.
The importance of community
Effectiveness of the project
From the implementation of the project, milestones were made which were to be assessed at a given point in time. The project is ongoing and full sustainable development has not been achieved yet. Currently, and based on the findings, there has been a greater impact of the project to the society as far as environmental infrastructure, social and economic life is concerned (Roberts,2001, p. 4). So far, it is a success as all the milestones of the project has been achieved to completion.
Conclusion
In summary, public is the most drive considered before any project is started by any institution whether public or private. During planning, the position of the public must be considered as they are the key determinant of the success or failure of the company. A successful project must begin with a public consultation so as to understand what the people think about it without acting ambitiously and ending up in losses. Contrary to the position taken by the government, involvement of the public in planning procedures is paramount just as it was in the case of Leicester city. A community deprived and infested with high unemployment rates changing to become one of the towns in the United Kingdom aspiring to achieve sustainability. The success of the project is entirely directed to the willingness of the public, government and co-partners not forgetting investors. Therefore, it is clear that public involvement can be efficient in meeting the demands of the community, ensuring transparency and legitimacy of the projects. Also, effective in enhancing citizenship, providing maintenance of the ethical standards and protection of the interests of the public.
Social problems related to corruption, embezzlement of funds and poor quality jobs can only occur if the public is not involved. It is, therefore, more beneficial for the public to be represented by majority especially the community members. Public participation in comparison to government domination reflects more advantages to the people. It is in this respect that people needs to be aware of their position regarding the developments implemented by the government. By right and accordance to the constitution, the public especially the concerned community should benefit greatly out of the area projects before any external parties are put into consideration.
Reference list
Arnstein, Sherry. Ladder of Citizen Participation. , n.d.. Print.
Brownill, S. & Carpenter, J. 2007, "Participation and Planning: Dichotomies, Rationalities and Strategies for Power," The Town Planning Review, vol. 78, no. 4, pp. 401-428.
Beebeejaun, Y. & Grimshaw, L. 2010, "Is the tNew Deal for Communities' a New Deal for Equality? Getting Women on Board in Neighbourhood Governance,t Urban Studies, vol. 48, no. 10, pp. 1997-2011.
Burningham, K., Barnett, J. & Walker, G. 2015, "An Array of Deficits: Unpacking NIMBY Discourses in Wind Energy Developers' Conceptualizations of Their Local Opponents," Society & Natural Resources, vol. 28, no. 3, pp. 246-260.
Davis, H. (2000). Political freedom: associations, political purposes and the law. London [u.a.], Continuum.
Cowie, P. and Davoudi, S. (2015) tIs Small Really Beautiful? The Legitimacy of Neighbourhood Planning', in Davoudi, S. and Madanipour, A. (eds.), Reconsidering Localism, London, Routledge, pp.168-189
Connelly, S. (2011) Constructing Legitimacy in the New Community Governance, Urban Studies Volume: 48 Issue: 5 Pages: 929-946
Gray, N. & Porter, L. 2015, "By Any Means Necessary: Urban Regeneration and the "State of Exception" in Glasgow's Commonwealth Games 2014", Antipode, vol. 47, no. 2, pp. 380-400
Healey, P. 2015, "Civil society enterprise and local development," Planning Theory & Practice, vol. 16, no. 1, pp. 11.
Iveson, K. 2013, "Cities within the City: DotIttYourself Urbanism and the Right to the City," International Journal of Urban and Regional Research, vol. 37, no. 3, pp. 941-956.
Janda, K., BerryY, J. M., & Goldman, J. (2008). The challenge of democracy: the government in America. Boston [u.a.], Houghton Mifflin.
Kelly, E. D. (2010). Community planning: an introduction to the comprehensive plan. Washington, DC, Island Press. http://public.eblib.com/choice/publicfullrecord.aspx?p=3317607.
Lasker, R. D., & Guidry, J. A. (2009). Engaging the community in decision making: case studies tracking participation, voice, and influence. Jefferson, N.C., McFarland & Co. http://public.eblib.com/choice/publicfullrecord.aspx?p=3017195.
MacLeod, M.A. & Emejulu, A. 2014, "Neoliberalism With a Community Face? A Critical Analysis of Asset-Based Community Development in Scotland", Journal of Community Practice, vol. 22, no. 4, pp. 430-450.
MacLeod, G. 2013, "New Urbanism/Smart Growth in the Scottish Highlands: Mobile Policies and Post-politics in Local Development Planning," Urban Studies, vol. 50, no. 11, pp. 2196-2221.
Musu, I. (2001). Sustainable Venice: Suggestions for the Future. Dordrecht, Springer Netherlands. http://public.eblib.com/choice/publicfullrecord.aspx?p=3103573.
Roberts, I. (2001). Leicester environment city: learning how to make Local Agenda 21 partnerships and participation deliver. London, International Institute for Environment and Development, Human Settlements Programme.
Schroth, Olaf G. From Information Zu Participation: Interactive Landscape Visualization As a Tool for Collaborative Planning. Zurich: vdf Hochschulvlg, 2009. Print.
Tait, M. & Inch, A. 2016, "Putting Localism in Place: Conservative Images of the Good Community and the Contradictions of Planning Reform in England," Planning Practice & Research, vol. 31, no. 2, pp. 174
Thompson, M. 2015, "Between Boundaries: Antipode, vol. 47, no. 4, pp. 1021-1042
(1995). Fairness and Competence in Citizen Participation Evaluating Models for Environmental Discourse. Dordrecht, Springer Netherlands. http://nbn-resolving.de/urn:nbn:de:1111-2011061957.
Cite this page
Public Involvement Essay Example. (2018, May 14). Retrieved from https://speedypaper.net/essays/101-public-involvement
Request Removal
If you are the original author of this essay and no longer wish to have it published on the SpeedyPaper website, please click below to request its removal: