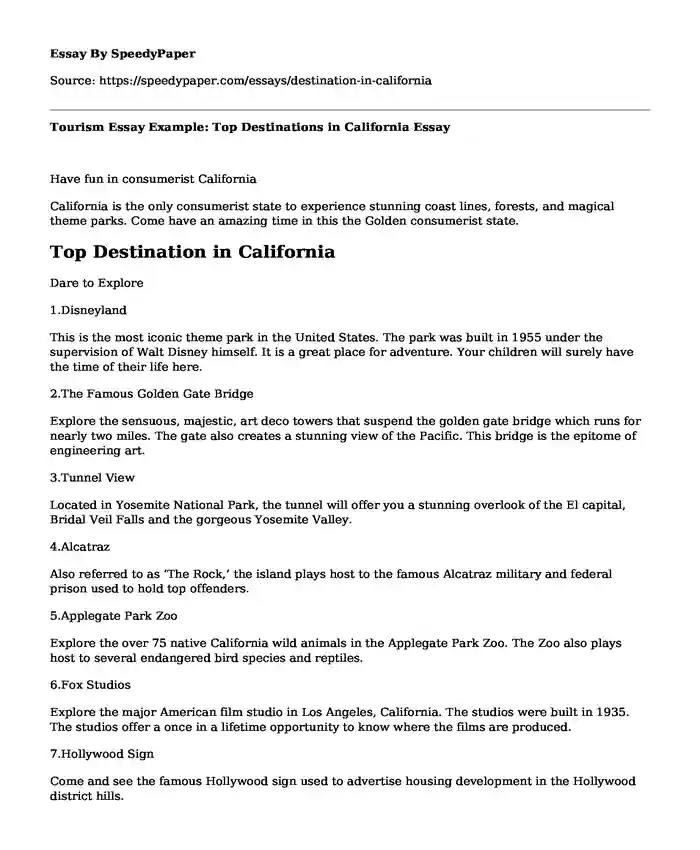 Have fun in consumerist California
California is the only consumerist state to experience stunning coast lines, forests, and magical theme parks. Come have an amazing time in this the Golden consumerist state.
Top Destination in California
Dare to Explore
1.Disneyland
This is the most iconic theme park in the United States. The park was built in 1955 under the supervision of Walt Disney himself. It is a great place for adventure. Your children will surely have the time of their life here.
2.The Famous Golden Gate Bridge
Explore the sensuous, majestic, art deco towers that suspend the golden gate bridge which runs for nearly two miles. The gate also creates a stunning view of the Pacific. This bridge is the epitome of engineering art.
3.Tunnel View
Located in Yosemite National Park, the tunnel will offer you a stunning overlook of the El capital, Bridal Veil Falls and the gorgeous Yosemite Valley.
4.Alcatraz
Also referred to as 'The Rock,' the island plays host to the famous Alcatraz military and federal prison used to hold top offenders.
5.Applegate Park Zoo
Explore the over 75 native California wild animals in the Applegate Park Zoo. The Zoo also plays host to several endangered bird species and reptiles.
6.Fox Studios
Explore the major American film studio in Los Angeles, California. The studios were built in 1935. The studios offer a once in a lifetime opportunity to know where the films are produced.
7.Hollywood Sign
Come and see the famous Hollywood sign used to advertise housing development in the Hollywood district hills.
8.World's Tallest Thermometer
California also plays host to the world's tallest thermometer. Located in Baker, the thermometer is 134 feet tall and was built in 1991 to record temperatures in the nearby Death Valley.
9.J Paul Getty Museum
Discover the Western art in J Paul Getty Museum in Los Angeles. The two-building also hosts some collections from Greek and Roman art among other works.
10.Hearst Castle
The Castle is a quintessential monument designed in 1919. It is an ideal site for family camping trips. It also has spectacular views to enjoy California's beauty.
California Reviews
Jhoveleen said
February 20, 2014 at 2.26 am
Hopefully soon I will explore any of these listed attractions in California. My kids will be thrilled about Disneyland.
Jade Darrville said,
June 17, 2014 at 11.07 pm
I had an amazing time at Disneyland and the national park. Thanks for the most fun.
Roger said,
April 13, 2015 at 6.01pm
Planning out trip from Michigan to Yellowstone, Grand Canyon and finally to Yosemite. California sure looks like the place to spend extra time in.
California: Keep Calm, Dream, Explore, and Discover - it will leave you speechless and then turn you to a story teller.
Cite this page
Tourism Essay Example: Top Destinations in California. (2017, Nov 24). Retrieved from https://speedypaper.net/essays/destination-in-california
Request Removal
If you are the original author of this essay and no longer wish to have it published on the SpeedyPaper website, please click below to request its removal: