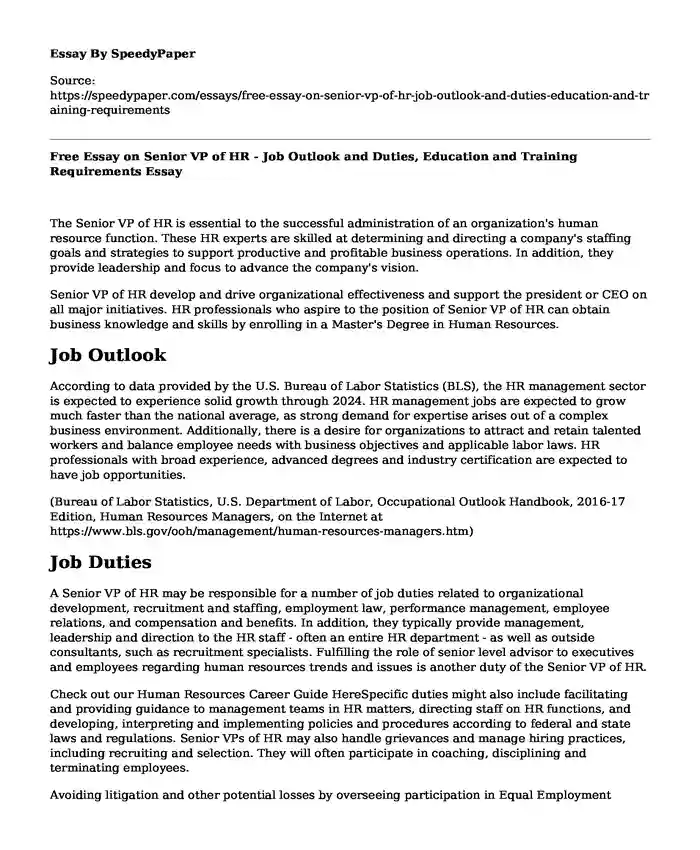 The Senior VP of HR is essential to the successful administration of an organization's human resource function. These HR experts are skilled at determining and directing a company's staffing goals and strategies to support productive and profitable business operations. In addition, they provide leadership and focus to advance the company's vision.
Senior VP of HR develop and drive organizational effectiveness and support the president or CEO on all major initiatives. HR professionals who aspire to the position of Senior VP of HR can obtain business knowledge and skills by enrolling in a Master's Degree in Human Resources.
Job Outlook
According to data provided by the U.S. Bureau of Labor Statistics (BLS), the HR management sector is expected to experience solid growth through 2024. HR management jobs are expected to grow much faster than the national average, as strong demand for expertise arises out of a complex business environment. Additionally, there is a desire for organizations to attract and retain talented workers and balance employee needs with business objectives and applicable labor laws. HR professionals with broad experience, advanced degrees and industry certification are expected to have job opportunities.
(Bureau of Labor Statistics, U.S. Department of Labor, Occupational Outlook Handbook, 2016-17 Edition, Human Resources Managers, on the Internet at https://www.bls.gov/ooh/management/human-resources-managers.htm)
Job Duties
A Senior VP of HR may be responsible for a number of job duties related to organizational development, recruitment and staffing, employment law, performance management, employee relations, and compensation and benefits. In addition, they typically provide management, leadership and direction to the HR staff - often an entire HR department - as well as outside consultants, such as recruitment specialists. Fulfilling the role of senior level advisor to executives and employees regarding human resources trends and issues is another duty of the Senior VP of HR.
Check out our Human Resources Career Guide HereSpecific duties might also include facilitating and providing guidance to management teams in HR matters, directing staff on HR functions, and developing, interpreting and implementing policies and procedures according to federal and state laws and regulations. Senior VPs of HR may also handle grievances and manage hiring practices, including recruiting and selection. They will often participate in coaching, disciplining and terminating employees.
Avoiding litigation and other potential losses by overseeing participation in Equal Employment Opportunity, Americans with Disabilities Act, Family and Medical Leave Act and other federal and state regulations is a vital function of a Senior VP of HR. They also monitor and ensure compliance with company policies.
Enabling a firm to attract, hire and retain top-quality employees with competitive salary and benefits is an important duty for the Senior VP of HR. To facilitate this, they will manage, evaluate, update and report on a comprehensive compensation plan for the entire organization. Major areas of influence for Senior VPs of HR are establishing short- and long-term goals, budgeting for HR expenses, and networking with outside peers and organizations when needed to achieve goals.
Senior VPs of HR are often responsible for developing and implementing a company's human resources business plan, establishing accountability, identifying solutions to resolve problems and fostering a diverse workplace that enables all employees to contribute to the organization at their full potential.
Senior VP of HR Education and Training Requirements
A bachelor's degree or equivalent is usually required of Senior VP of HR job candidates. Some employers may prefer a concentration in human resources or business, along with specialized training in management, planning, compensation and labor relations. Employers may also show preference to candidates with industry certification or an HR Master's degree.
Advanced degrees or professional HR training is becoming increasingly important for upper-level HR management positions. HR professionals can obtain the advanced knowledge and skills needed to compete for these jobs through a Master of Science in Human Resource Development degree program. Coursework typically includes workforce planning, financial management for profit, employment law and organizational training.
Employers can be confident that professionals who have earned a Master's Degree in HR are able to:
Strategically plan human resource strategies in support of organizational goals
Manage organizational change to increase employee satisfaction and productivity
Identify opportunities for improving, developing and conserving human resources
Demonstrate ability to use data and statistics to solve real-world HR problems
Structure competitive compensation packages, and measure their success
Leverage advanced knowledge and skills to succeed as a senior VP of HR
Expand Your Career Opportunities to Become a Senior VP of HR
HR professionals know that being proactive, positive, self-reliant and results-oriented are often skills for success in the human resources field. To achieve the position of Senior VP of HR, you'll need all these attributes, along with outstanding leadership, interpersonal and communication skills. The ability to make sound decisions, and a commitment to integrity and accountability can serve you well in this career. Becoming an effective HR leader in the role of Senior VP of HR can be possible when you combine your dynamic personal qualities with the advanced skills and knowledge you can obtain through a Master of Science in Human Resources Development degree program.
Cite this page
Free Essay on Senior VP of HR - Job Outlook and Duties, Education and Training Requirements. (2022, Aug 22). Retrieved from https://speedypaper.net/essays/free-essay-on-senior-vp-of-hr-job-outlook-and-duties-education-and-training-requirements
Request Removal
If you are the original author of this essay and no longer wish to have it published on the SpeedyPaper website, please click below to request its removal: