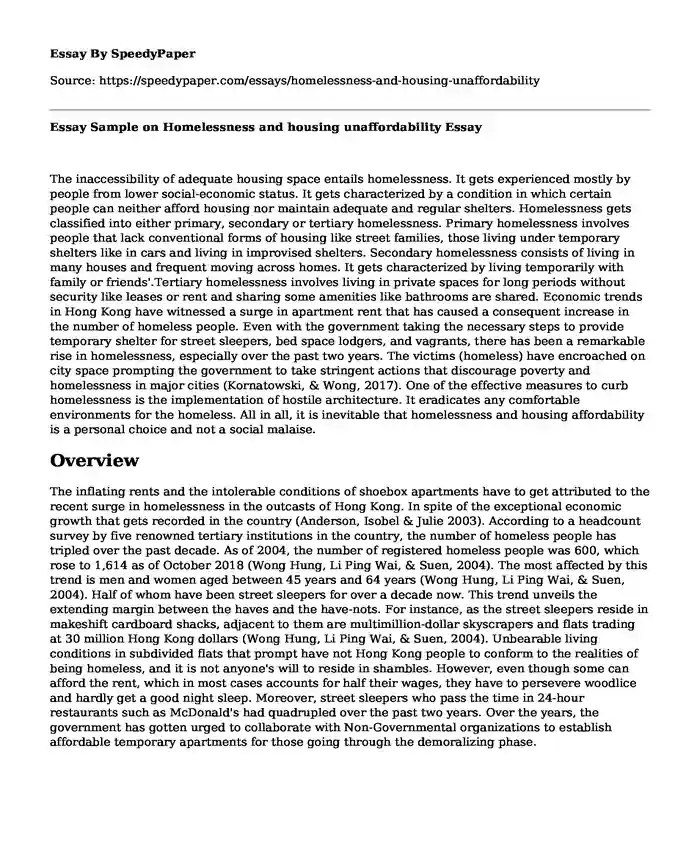 The inaccessibility of adequate housing space entails homelessness. It gets experienced mostly by people from lower social-economic status. It gets characterized by a condition in which certain people can neither afford housing nor maintain adequate and regular shelters. Homelessness gets classified into either primary, secondary or tertiary homelessness. Primary homelessness involves people that lack conventional forms of housing like street families, those living under temporary shelters like in cars and living in improvised shelters. Secondary homelessness consists of living in many houses and frequent moving across homes. It gets characterized by living temporarily with family or friends'.Tertiary homelessness involves living in private spaces for long periods without security like leases or rent and sharing some amenities like bathrooms are shared. Economic trends in Hong Kong have witnessed a surge in apartment rent that has caused a consequent increase in the number of homeless people. Even with the government taking the necessary steps to provide temporary shelter for street sleepers, bed space lodgers, and vagrants, there has been a remarkable rise in homelessness, especially over the past two years. The victims (homeless) have encroached on city space prompting the government to take stringent actions that discourage poverty and homelessness in major cities (Kornatowski, & Wong, 2017). One of the effective measures to curb homelessness is the implementation of hostile architecture. It eradicates any comfortable environments for the homeless. All in all, it is inevitable that homelessness and housing affordability is a personal choice and not a social malaise.
Overview
The inflating rents and the intolerable conditions of shoebox apartments have to get attributed to the recent surge in homelessness in the outcasts of Hong Kong. In spite of the exceptional economic growth that gets recorded in the country (Anderson, Isobel & Julie 2003). According to a headcount survey by five renowned tertiary institutions in the country, the number of homeless people has tripled over the past decade. As of 2004, the number of registered homeless people was 600, which rose to 1,614 as of October 2018 (Wong Hung, Li Ping Wai, & Suen, 2004). The most affected by this trend is men and women aged between 45 years and 64 years (Wong Hung, Li Ping Wai, & Suen, 2004). Half of whom have been street sleepers for over a decade now. This trend unveils the extending margin between the haves and the have-nots. For instance, as the street sleepers reside in makeshift cardboard shacks, adjacent to them are multimillion-dollar skyscrapers and flats trading at 30 million Hong Kong dollars (Wong Hung, Li Ping Wai, & Suen, 2004). Unbearable living conditions in subdivided flats that prompt have not Hong Kong people to conform to the realities of being homeless, and it is not anyone's will to reside in shambles. However, even though some can afford the rent, which in most cases accounts for half their wages, they have to persevere woodlice and hardly get a good night sleep. Moreover, street sleepers who pass the time in 24-hour restaurants such as McDonald's had quadrupled over the past two years. Over the years, the government has gotten urged to collaborate with Non-Governmental organizations to establish affordable temporary apartments for those going through the demoralizing phase.
Urban Homeless Deterrence Facilities
A careful analysis of the city's development plans ascertains that the government is determined to discourage homelessness and poverty in the city. The design of parks, benches, and seats in public places have taken a different toll. For instance, benches are now getting designed with bulky armrest. Furthermore, there are vertical slats that divide different chairs. All these designs only allow for leaning positions while deterring lying down. Additionally, over the past two years, the designs have been particularly prevalent in Sham Shui Po, Yau Ma Tei, and Kwun Tong districts which are among the poorest (Rodriguez, 2015). Also referred to as hostile architecture, the design has enabled the government to evade incurring hefty costs in hiring human resources for surveillance and intervention against homeless people in society. Instead, it has seamlessly incorporated its objectives to the masses silently. The city is known for collaborating a top-down rule in urban design and planning. The inhumane yet rigid models have eradicated considerations on humanizing, inclusive, and compassionate frameworks in the public landscape. The move has further exacerbated the social divide between the homeless and the rest of society. It has resulted in most citizens getting indifferent of the homeless, thus making it even impossible for them to lead healthy lives.
The Overlooked Perspective of Homelessness
Simon Lee unveiled the often-overlooked side of the homeless people and the quality of life they lead (Vissing, Nilan, & Hudson, 2019). As a homeless person who goes by the leftovers from Sikh temple and McDonald's, the former tutor ascertains that he is much happier homeless in comparison with times he had to pay the soaring rent rates (Vissing, Nilan, & Hudson, 2019). Property prices in Hong Kong have risen in the past decade, and rent rates are incredibly high. As a middle-class citizen, Simon had to persevere the painful relationships and the high anticipation of amassing material possessions. In contrast, though, he proposes that the homeless can lead decent lives often free from the stress of life (Vissing, Nilan, & Hudson, 2019). For many of the homeless people in Hong Kong, it is due to inaccessibility to employment opportunities or financial difficulties. Hong Kong also gets characterized by inadequate affordable housing, and over the past decade, people are finding it challenging to afford the rent for their residential space (Vissing, Nilan, & Hudson, 2019). However, this is not the case for Simon. He informs that he has a degree in Chemistry and as a result, safeguarded a steady white-collar job in a renowned institution in the city (Vissing, Nilan, & Hudson, 2019). In spite of this, however, he found the rat race of white-collar jobs to be hectic and stressful. Thus, he voluntarily quit his job and resorted to being homeless. He claims that through these decisions, he has gained the freedom most people desire to achieve.
Government Initiatives for Bed space Lodgers
Twofold government policy is in existence to counter the surge in homelessness. The first regulation entailed the sector of bed space lodgers. In 1994, the Bed space Apartment Ordinance (BAO) got enacted by the Home Affairs Department (HAD). The HAD got tasked with ensuring control over the decrepit state of most bed space apartments. Among the main stipulations of the HAD was to ensure that the public was safeguarded from health and physical harm by the alleged apartments (Clapham, 2003). Thus, the precarious state of the apartments was already violating this regulation. HAD demanded that apartment owners had access to an operating license once it ascertained that they were prioritizing the well-being of their tenants. Regardless, it is a business whose main objective is to widen profit margins. As such, owners are determined to raise the costs of renting while maintaining the costs of maintenance at the least possible limits. If it does not get achieved, most owners resort to quitting altogether. Consequently, it, in turn, threatened the ability of tenants to safeguard their spaces in the long run. In an attempt to solve this dilemma, HAD took up the initiative of subsidizing the maintenance costs of apartment owners. To ensure efficiency in this endeavour, it delegated the task to the Agency for Volunteer Service, an NGO, in 1996, and finally to the Neighborhood Advice Action Council (NAAC) in 2001 (Anderson, Isobel & Julie 2003). The apartments managed by these institutions are referred to as singleton apartment, suggesting that they collect rent from their tenants. However, their main objective is to ensure that apartments are as affordable as possible with top-notch service provision. Even though the average rent varies depending on the quality of the apartments, an average of 1000 Hong Kong dollars gets ensured that they are within stipulations by the CSSA and that the average rent does not get exceeded.
Government Initiatives for Street Sleepers
The government has ensured that it serves the street sleepers as well, though the structural features are different from those of bed space lodgers. It is worth noting, however, that in both initiatives, the pressure by SoCO to enact protection policies and the NGO engagement is standard. As opposed to singleton houses, shelters are provided entirely free of charge with the condition of it being on a one-night basis alone. Their main objective is to ensure that those without shelter and no apparent source of income do not lack a place to sleep in the short term. The Social Welfare Department (SWD) gets entrusted with overseeing the street sleepers' welfare. The SWD appointed three specific organizations that would ensure service delivery to street sleepers. They include; Street Sleepers' Shelter Society Trustees, Inc. (SSSSTI), Christian Concern for the Homeless Association (CCHA) and the Missionaries of Charity (Kornatowski, 2010. The SSSSTI runs three specific shelters located in Hong Kong Island and Kowloon. All these institutions are available overnight. Furthermore, the St. Barnabas Society and Home (SBSH) and the St. James' Settlement (SJS) are available to provide emergency shelter in addition to those available. The accommodations in Hong Kong Island constitute nine hostels managed by seven different institutions. Moreover, research ascertains that the SWD has been engaging street sleepers from as early as the 1980s to conduct outreach programs and subsidize NGOs that endeavour to aid street sleepers. By the year 2001, effective measures had gotten enacted and developed to ensure that street sleepers had better living standards. The Integrated Systems and the Three-year Action Plan to Help Street Sleepers were government initiatives as a result of the surge in the number of street sleepers and the fact that they invaded major cities causing public distress and concern.
Economic trends have witnessed main urban areas develop in terms of GDP and the demand for better standards of living. Consequently, apartment owners have gotten prompted to inflate apartment rents to widen their profit margins. In turn, the quality of service in the apartments has deteriorated as owners are determined to keep maintenance costs at the least possible levels. It has resulted in impulsive expenditure in renting apartments by Hong Kong middle-class citizens without necessarily the marching quality. Those unable to cope with the demanding pressures of renting and with extreme financial issues have instead resorted to being homeless. In spite, measures by the government have been effective in availing reliable solutions to both street sleepers and bed space lodgers. Through HAD, the average costs of apartments get maintained at affordable prices of at least 1000 Hong Kong dollars. On the other hand, the SWD has ensured that street sleepers have shelter even though temporarily. Moreover, emergency shelters get availed by organizations such as SBSH and SJS. Therefore it would be safe to conclude that homelessness in Hong Kong is a personal choice and not a social malaise.
In conclusion, homelessness refers to a condition in which people, mostly of the lower social-economic status, cannot afford housing or to maintain adequate shelter.
Cite this page
Essay Sample on Homelessness and housing unaffordability. (2023, Mar 17). Retrieved from https://speedypaper.net/essays/homelessness-and-housing-unaffordability
Request Removal
If you are the original author of this essay and no longer wish to have it published on the SpeedyPaper website, please click below to request its removal: