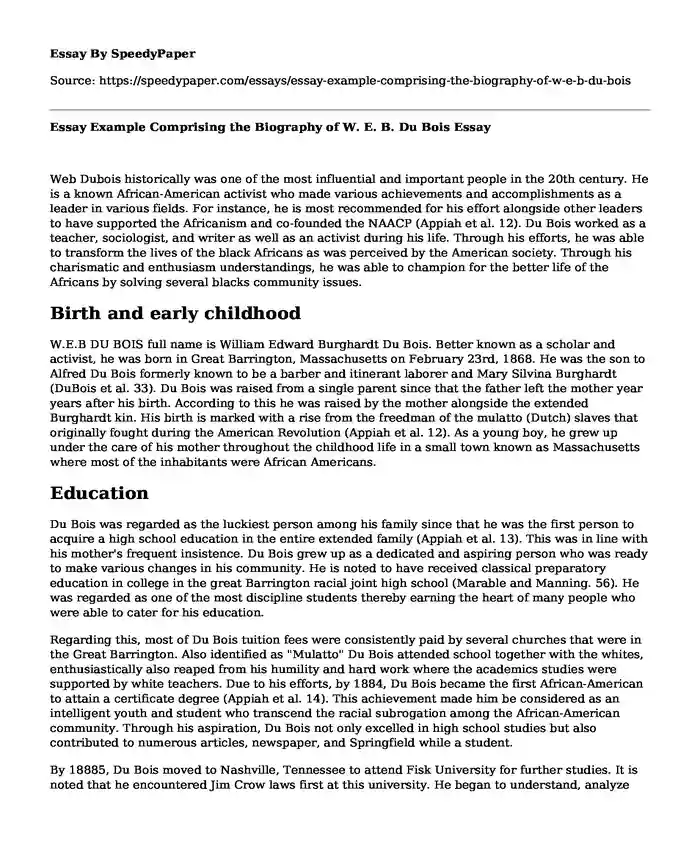 Web Dubois historically was one of the most influential and important people in the 20th century. He is a known African-American activist who made various achievements and accomplishments as a leader in various fields. For instance, he is most recommended for his effort alongside other leaders to have supported the Africanism and co-founded the NAACP (Appiah et al. 12). Du Bois worked as a teacher, sociologist, and writer as well as an activist during his life. Through his efforts, he was able to transform the lives of the black Africans as was perceived by the American society. Through his charismatic and enthusiasm understandings, he was able to champion for the better life of the Africans by solving several blacks community issues.
Birth and early childhood
W.E.B DU BOIS full name is William Edward Burghardt Du Bois. Better known as a scholar and activist, he was born in Great Barrington, Massachusetts on February 23rd, 1868. He was the son to Alfred Du Bois formerly known to be a barber and itinerant laborer and Mary Silvina Burghardt (DuBois et al. 33). Du Bois was raised from a single parent since that the father left the mother year years after his birth. According to this he was raised by the mother alongside the extended Burghardt kin. His birth is marked with a rise from the freedman of the mulatto (Dutch) slaves that originally fought during the American Revolution (Appiah et al. 12). As a young boy, he grew up under the care of his mother throughout the childhood life in a small town known as Massachusetts where most of the inhabitants were African Americans.
Education
Du Bois was regarded as the luckiest person among his family since that he was the first person to acquire a high school education in the entire extended family (Appiah et al. 13). This was in line with his mother's frequent insistence. Du Bois grew up as a dedicated and aspiring person who was ready to make various changes in his community. He is noted to have received classical preparatory education in college in the great Barrington racial joint high school (Marable and Manning. 56). He was regarded as one of the most discipline students thereby earning the heart of many people who were able to cater for his education.
Regarding this, most of Du Bois tuition fees were consistently paid by several churches that were in the Great Barrington. Also identified as "Mulatto" Du Bois attended school together with the whites, enthusiastically also reaped from his humility and hard work where the academics studies were supported by white teachers. Due to his efforts, by 1884, Du Bois became the first African-American to attain a certificate degree (Appiah et al. 14). This achievement made him be considered as an intelligent youth and student who transcend the racial subrogation among the African-American community. Through his aspiration, Du Bois not only excelled in high school studies but also contributed to numerous articles, newspaper, and Springfield while a student.
By 18885, Du Bois moved to Nashville, Tennessee to attend Fisk University for further studies. It is noted that he encountered Jim Crow laws first at this university. He began to understand, analyze and deeply thought of the American troubles and racism making him resorted to doing his best to end African-American racism (Appiah et al. 14). Upon attaining his bachelor degree at Fisk, he later entered Harvard University where he enrolled for his master's degree. Du Bois was able to pay for his tertiary education through his summer jobs money alongside scholarship and loans from the friends. Lucky enough after completing the master's degree, Du Bois was selected for an abroad study program which majored at the University of Berlin. In Germany, he studied together with the most prominent social scientist that were able to expose him to the political perspectives after that he touted for the rest of his life. Du Bois is considered as one of the prominent persons in history having been the first African-American to earn a Ph.D. in 1895 at Harvard University (Appiah et al. 15). He enrolled for doctoral studies later at Friedrich-Wilhelms-Universitat currently known as Humboldt-Universitat and was awarded an honorary doctoral degree in 1958.
Marriage and life
While teaching at Wilberforce University in Ohio, Du Bois married one of his students Nina in 1896. He had the first son with his wife in the year 1899. Unfortunately, the son died later due to Diphtheria making his weep and came up with the book "The passing of the firstborn" (Appiah et al. 13). As a historian, activist, and sociologist, Du Bois was able to understand and solve various problems experienced by the blacks who were mostly mistreated as low-class beings. He began his career upon which he made various achievements as a statesman.
Career and achievements
In his later life, Dubois made a lot of achievements both as a black nationalism and strong activists. He made a lot of important meetings and advocacy for black people's right. The most remembered and influential is where strongly advocated for the Pan-Africanism (Appiah et al. 15). Dubois believed on togetherness, and according to him, the people of Africa could only fight for independence when they come together and join hands, unite and fight for their freedom. With his firm belief on the unity of African, he was among the top founders of the pan Africanism. In 1990 the first Pan-African conference was held in London and Dubois was the leader and the architect for the four consecutive meetings of African pan congress which was held between the year 1919 and 1927 (Appiah et al. 15). Apart from the pan African, Dubois also strongly articulated for cultural nationalism, he believed that African culture was original and was to be passed from one generation, without any termination from the foreign culture. He thought that Africa was rich in culture and their traditional practices were the best ways of doing things with the originality. His love for an African culture made him encourage the development of black literature and art. He always asked his readers to see the Beauty in Black.
His Black Nationalism activism is also seen in his belief that black develops separate independent group economy where they are the producers and the consumers of the Africans products; he believed that group economy would help Africans fighting the economic discrimination and the notion of black poverty where the blacks were being related to backwardness, ignorance, and poverty (Morris and Aldon. 121). The doctrine of group economy became very important and started to make sense during the economic catastrophe of the year 1930, where he participated in the struggling of the ideology within the NAACP. In the year 1934 Dubois took a bolt decision and resigned from his work of editorship of the Crisis and NAACP due to his ideological beliefs and stand. His resignation idea was provoked by his belief that the organization was assuming the problems of the masses. Following his unswaying command which he had as the leader of black people and by charging that the organization was formed with an interest of the African people he believed that things were not done the right way. From his Marxist leanings, he developed an interest in the cooperative and the world of doing business. In the early century he believed and activated for the black capitalism, which always made him support the black African market, but later he drowned his interest towards socialist doctrines. In the 1912 Dubois joined Socialist Party, but he believes on the Marxists theory and ideas remained unchanged throughout his life.
After leaving NAACP he went back to Atlanta University where he advocated for a very long time to teaching and scholarship to African youths who had the interest in going to school (Morris and Aldon. 122). By the year 1940 Dubois founded the magazine phylon, Atlanta University which was titled Review of Race and Culture and later in 1945 he published Encyclopaedia about Africans. In his brilliant book of Dusk of Dawn, he explained his role and critical responsibilities in both the African and the African American struggles for freedom and independence. Many people both Africans and Americans viewed his career as an ideological case study elaborating the complexity of the black-white conflict (Morris and Aldon. 122). After his struggle and a fruitful decade at the Atlanta University where he made several achievements and helped Africans students get a scholarship, he returned to a research position at NAACP. After returning to NAACP he did not stay for long before disagreement came which resulted to another bitter quarrel. He decided to join politics fulltime and left his scholarly life. In the year 1951 Dubois was noticed as pro-Russian, and he was charged as an unregistered agent for a foreign power (Morris and Aldon. 122). The federal judge gave a ruling and directed his acquittal, but he became utterly demoralized with the United States. But without losing hope, he applied again in the year 1961, and he was accepted as a full member of the communist party. Later in the year, 1961 Dubois left for Ghana where he began the work on Encyclopaedia Africana (Morris and Aldon. 123). During these final years in Ghana Dubois focused mostly on Pan-Africanism and also trying to complete his Encyclopaedia. Dubois was unable to complete his work due to lack of funds needed, he after that postponed his profession until 1935. Unfortunately, and professional battles disrupted his work .Dubois begged, but it was never accepted until he unfortunately died. The African activist died in Ghana in 1963, and he was given a state burial.
Work cite
Appiah, Kwame Anthony. "Lines of Descent: WEB du Bois and the Emergence of Identity." Rivista semestrale ISSN 2281 (2014): 4582.
DuBois, William Edward Burghardt. Dusk of Dawn!: An Essay Toward an Autobiography of Race Concept. Routledge, 2017.
Marable, Manning. WEB Du Bois: Black Radical Democrat. Routledge, 2015.
Morris, Aldon D. The scholar denied: WEB Du Bois and the birth of modern sociology. University of California Press, 2015.
Cite this page
Essay Example Comprising the Biography of W. E. B. Du Bois. (2022, Oct 20). Retrieved from https://speedypaper.net/essays/essay-example-comprising-the-biography-of-w-e-b-du-bois
Request Removal
If you are the original author of this essay and no longer wish to have it published on the SpeedyPaper website, please click below to request its removal: