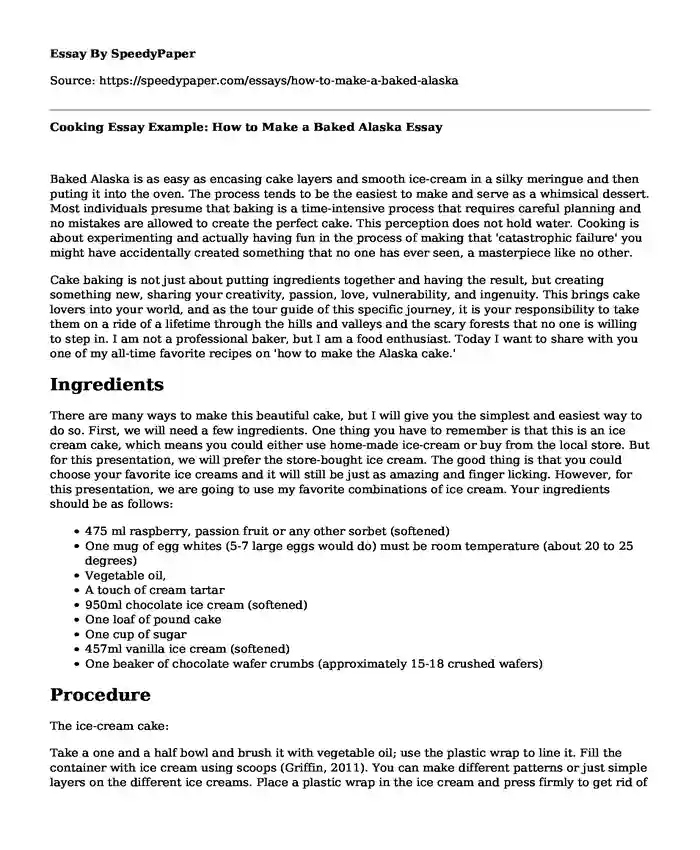 | | |
| --- | --- |
| Type of paper:  | Speech |
| Categories: | Cooking |
| Pages: | 4 |
| Wordcount: | 847 words |
Baked Alaska is as easy as encasing cake layers and smooth ice-cream in a silky meringue and then puting it into the oven. The process tends to be the easiest to make and serve as a whimsical dessert. Most individuals presume that baking is a time-intensive process that requires careful planning and no mistakes are allowed to create the perfect cake. This perception does not hold water. Cooking is about experimenting and actually having fun in the process of making that 'catastrophic failure' you might have accidentally created something that no one has ever seen, a masterpiece like no other.
Cake baking is not just about putting ingredients together and having the result, but creating something new, sharing your creativity, passion, love, vulnerability, and ingenuity. This brings cake lovers into your world, and as the tour guide of this specific journey, it is your responsibility to take them on a ride of a lifetime through the hills and valleys and the scary forests that no one is willing to step in. I am not a professional baker, but I am a food enthusiast. Today I want to share with you one of my all-time favorite recipes on 'how to make the Alaska cake.'
Ingredients
There are many ways to make this beautiful cake, but I will give you the simplest and easiest way to do so. First, we will need a few ingredients. One thing you have to remember is that this is an ice cream cake, which means you could either use home-made ice-cream or buy from the local store. But for this presentation, we will prefer the store-bought ice cream. The good thing is that you could choose your favorite ice creams and it will still be just as amazing and finger licking. However, for this presentation, we are going to use my favorite combinations of ice cream. Your ingredients should be as follows:
475 ml raspberry, passion fruit or any other sorbet (softened)
One mug of egg whites (5-7 large eggs would do) must be room temperature (about 20 to 25 degrees)
Vegetable oil,
A touch of cream tartar
950ml chocolate ice cream (softened)
One loaf of pound cake
One cup of sugar
457ml vanilla ice cream (softened)
One beaker of chocolate wafer crumbs (approximately 15-18 crushed wafers)
Procedure
The ice-cream cake:
Take a one and a half bowl and brush it with vegetable oil; use the plastic wrap to line it. Fill the container with ice cream using scoops (Griffin, 2011). You can make different patterns or just simple layers on the different ice creams. Place a plastic wrap in the ice cream and press firmly to get rid of the spaces and just even it out. Eliminate the wrap and sprinkle the crumbs and the re-wrap and press it again and place in the freezer for it to settle for half an hour
Take away the cover and put the chocolate flavored ice cream on top of the crumbs creating an even layer. Cut the pound cake into small slices of an approximately half an inch in thickness. Completely conceal the cream and trim where it's necessary (this will cover almost two-thirds of the cake), (Griffin, 2011). Use a fresh wrap of plastic cover the cake and freeze it until it is firm (at least 120 minutes to 48 hours)
Creating the meringue
Place the cream of tartar and egg whites in bowl and whip with mixer on medium speed until it becomes foamy for close to 120 seconds. Beat in sugar to the mixture until it becomes glossy and stiff.
Clear the plastic wrap and gently turn the cake upside down and place on a baking sheet that has been lined with parchment. Get rid of the rest of the plastic wrap and then ultimately use the meringue to cover the ice cream thus creating a dome-shaped top (White, 2009). Use the back of the spoon to form the swirly peaks in the meringue, then freeze it for at least 180 minutes or more.
Heat the oven to five hundred degrees. Bake the cake for close to four minutes this is to turn the peaks of the meringue turns to gold or brownish. You could also use a blow torch. Serve the cake once it softens and reaches a room temperature of between 20 to 25 degrees, and this will take approximately five to ten minutes to cool (White, 2009).
Conclusion
This is a simple dessert to prepare since most of the ingredients are already store bought. All that is required of you is to bring them together and create this beautiful cake. The preparation and making of the whole cake will take close to 6 hours. It's a great summer dessert that will go well with a cold refreshing drink. I want to thank you for your patience and time in indulging me today, take care.
References
Griffin, K. (2011). Baked Alaska. Fourth Genre: Explorations in Nonfiction, 3(1), 35-42. doi:10.1353/fge.2013.0418
White, T. (2009). How to make a Baked Alaska. How to Make a Baked Alaska, 214-216. doi:10.1016/b978-0-240-81033-1.00046-7
Cite this page
Cooking Essay Example: How to Make a Baked Alaska. (2022, Sep 21). Retrieved from https://speedypaper.net/essays/how-to-make-a-baked-alaska
Request Removal
If you are the original author of this essay and no longer wish to have it published on the SpeedyPaper website, please click below to request its removal: