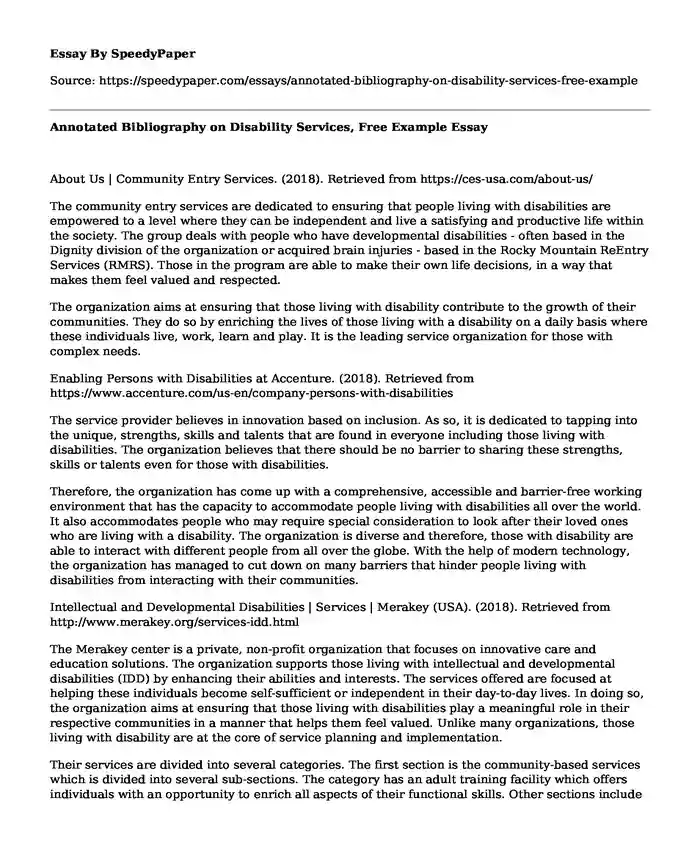 About Us | Community Entry Services. (2018). Retrieved from https://ces-usa.com/about-us/
The community entry services are dedicated to ensuring that people living with disabilities are empowered to a level where they can be independent and live a satisfying and productive life within the society. The group deals with people who have developmental disabilities - often based in the Dignity division of the organization or acquired brain injuries - based in the Rocky Mountain ReEntry Services (RMRS). Those in the program are able to make their own life decisions, in a way that makes them feel valued and respected.
The organization aims at ensuring that those living with disability contribute to the growth of their communities. They do so by enriching the lives of those living with a disability on a daily basis where these individuals live, work, learn and play. It is the leading service organization for those with complex needs.
Enabling Persons with Disabilities at Accenture. (2018). Retrieved from https://www.accenture.com/us-en/company-persons-with-disabilities
The service provider believes in innovation based on inclusion. As so, it is dedicated to tapping into the unique, strengths, skills and talents that are found in everyone including those living with disabilities. The organization believes that there should be no barrier to sharing these strengths, skills or talents even for those with disabilities.
Therefore, the organization has come up with a comprehensive, accessible and barrier-free working environment that has the capacity to accommodate people living with disabilities all over the world. It also accommodates people who may require special consideration to look after their loved ones who are living with a disability. The organization is diverse and therefore, those with disability are able to interact with different people from all over the globe. With the help of modern technology, the organization has managed to cut down on many barriers that hinder people living with disabilities from interacting with their communities.
Intellectual and Developmental Disabilities | Services | Merakey (USA). (2018). Retrieved from http://www.merakey.org/services-idd.html
The Merakey center is a private, non-profit organization that focuses on innovative care and education solutions. The organization supports those living with intellectual and developmental disabilities (IDD) by enhancing their abilities and interests. The services offered are focused at helping these individuals become self-sufficient or independent in their day-to-day lives. In doing so, the organization aims at ensuring that those living with disabilities play a meaningful role in their respective communities in a manner that helps them feel valued. Unlike many organizations, those living with disability are at the core of service planning and implementation.
Their services are divided into several categories. The first section is the community-based services which is divided into several sub-sections. The category has an adult training facility which offers individuals with an opportunity to enrich all aspects of their functional skills. Other sections include behavior support services, early intervention case management, employment, in-home support, non-traditional community day services and support coordination.
The other category includes residential services which are aimed at helping individuals living with intellectual disabilities n controlled environments in the form of community living or group homes, family or shared living, intermediate care facility, respite care, specialized residential homes that are meant to meet the complex needs of those living with conditions such as autism, problematic sexual behavior, or those who are medically fragile; and supported living.
Sunnyhaven - Disability Services. (2018). Retrieved from http://www.sunnyhaven.org.au/
The facility offers a wide range of support services for its clients guaranteed to help them feel loved, appreciated, independent and included. Some of the services provided include day programs where the individuals living with disability go on fun trips and engage in activities with the local communities. They also offer accommodation services that include specialized housing and short-term respite arrangement for unpaid carers of people living with a disability. This initiative is meant to help both the individual and the family members or carers that look after them.
One of the unique services offered by the facility includes early childhood intervention services which involve providing specialist intervention as well as the necessary support services for the children who are either in the early development stages of their disability diagnosis or early in the life course. The facility provides an environment that offers support by encouraging resilience, social inclusion, and capacity. Finally, it offers adult speech and psychological therapy which helps those living with disabilities such as autism develop skills and strategies that will help them confidently deal with everyday life.
The Whole Person: Home. (2018). Retrieved from http://thewholeperson.org/
People living with disabilities deserve to live independent lives. The organization aims at ensuring that those with disabilities are adequately supported to increase their ability to perform their daily activities as well as reducing the need of support from their community members that include family, caregivers and professional attendants. Many of the services provided in the facility are mainly aimed at building the confidence in these individuals. The article indicated the various ways it has managed to help its clients from transport facilities, health-care facilities, entertainments, sports and many other activities. The organization connects people with disabilities with the resources they need to live healthy and ordinary lives. They also encourage volunteers which help those enrolled in the facility engage with the community around them.
References
About Us | Community Entry Services. (2018). Retrieved from https://ces-usa.com/about-us/
Enabling Persons with Disabilities at Accenture. (2018). Retrieved from https://www.accenture.com/us-en/company-persons-with-disabilities
Intellectual and Developmental Disabilities | Services | Merakey (USA). (2018). Retrieved from http://www.merakey.org/services-idd.html
Sunnyhaven - Disability Services. (2018). Retrieved from http://www.sunnyhaven.org.au/
The Whole Person: Home. (2018). Retrieved from http://thewholeperson.org/
Cite this page
Annotated Bibliography on Disability Services, Free Example. (2022, Jun 24). Retrieved from https://speedypaper.net/essays/annotated-bibliography-on-disability-services-free-example
Request Removal
If you are the original author of this essay and no longer wish to have it published on the SpeedyPaper website, please click below to request its removal: