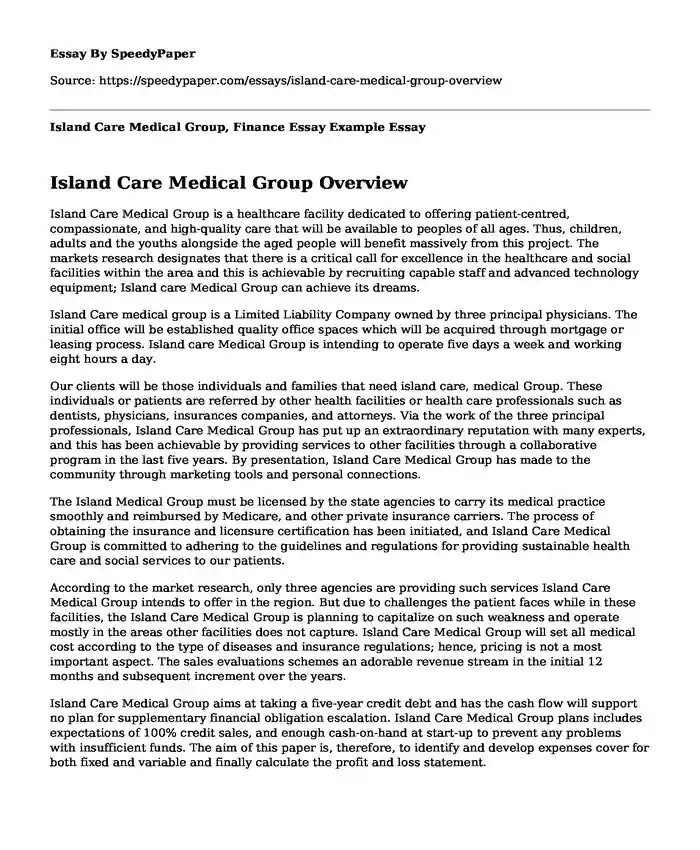 | | |
| --- | --- |
| Type of paper:  | Business plan |
| Categories: | Financial analysis |
| Pages: | 5 |
| Wordcount: | 1300 words |
Island Care Medical Group Overview
Island Care Medical Group is a healthcare facility dedicated to offering patient-centred, compassionate, and high-quality care that will be available to peoples of all ages. Thus, children, adults and the youths alongside the aged people will benefit massively from this project. The markets research designates that there is a critical call for excellence in the healthcare and social facilities within the area and this is achievable by recruiting capable staff and advanced technology equipment; Island care Medical Group can achieve its dreams.
Island Care medical group is a Limited Liability Company owned by three principal physicians. The initial office will be established quality office spaces which will be acquired through mortgage or leasing process. Island care Medical Group is intending to operate five days a week and working eight hours a day.
Our clients will be those individuals and families that need island care, medical Group. These individuals or patients are referred by other health facilities or health care professionals such as dentists, physicians, insurances companies, and attorneys. Via the work of the three principal professionals, Island Care Medical Group has put up an extraordinary reputation with many experts, and this has been achievable by providing services to other facilities through a collaborative program in the last five years. By presentation, Island Care Medical Group has made to the community through marketing tools and personal connections.
The Island Medical Group must be licensed by the state agencies to carry its medical practice smoothly and reimbursed by Medicare, and other private insurance carriers. The process of obtaining the insurance and licensure certification has been initiated, and Island Care Medical Group is committed to adhering to the guidelines and regulations for providing sustainable health care and social services to our patients.
According to the market research, only three agencies are providing such services Island Care Medical Group intends to offer in the region. But due to challenges the patient faces while in these facilities, the Island Care Medical Group is planning to capitalize on such weakness and operate mostly in the areas other facilities does not capture. Island Care Medical Group will set all medical cost according to the type of diseases and insurance regulations; hence, pricing is not a most important aspect. The sales evaluations schemes an adorable revenue stream in the initial 12 months and subsequent increment over the years.
Island Care Medical Group aims at taking a five-year credit debt and has the cash flow will support no plan for supplementary financial obligation escalation. Island Care Medical Group plans includes expectations of 100% credit sales, and enough cash-on-hand at start-up to prevent any problems with insufficient funds. The aim of this paper is, therefore, to identify and develop expenses cover for both fixed and variable and finally calculate the profit and loss statement.
Expenses
Island Care Medical Group resolved to operate on owner-occupy commercial real estate space. The resolution was reached due to the control of the property, assets appreciation, equity increase. The cost of rents is 29, 2563,968 per annum. The facility is focused on operating eight hours a day for five days in a week.
Staffing Cost
Item No units Unit cost Total Per Month Cost Per annum
Physicians 3 $24,500 each Monthly $73, 500 $882000
Nurse Practitioner 1 $111985 $111985
Registered Nurse 3 $85,000 $255000
Medical Assistance 3 $3032 each monthly $9096 $109152
Environmental Services 2 $2320 each monthly $4640 $55680
Practice Manager 1 $8167 $8167 $98000
Office Supervisor 1 $5000 $5000 $60000
Bailing &Coding 1 3040 $3040 $36480
Total $1608297
The total cost is, therefore:
Rent or Lease Costs = 292,563.968
Staffing Costs = 1608297
Utility Costs = 63,966, 922
Medical Supplies = 30, 140.46
TOTAL EXPENSES = 358,169,327.46
Revenue Budget for visitors
Revenue budget is a forecast of the income Island Care Medical Group expects to receive for a year. It demands revenues related budget and projection of patient service revenues.
Clinical Revenue
Island Care Medical group Visits per Month Reimbursement Revenue Month
Medicaid%480 40% 2, 986, 333 Jan
Medicaid% 480 40% 2, 986, 333 Feb
Medicaid% 480 40% 2, 986, 333 March
Medicaid% 480 40% 2, 986, 333 April
Medicaid% 480 40% 2, 986, 333 May
Medicaid% 480 40% 2, 986, 333 June
Medicaid% 480 40% 2, 986, 333 July
Medicaid% 480 40% 2, 986, 333 Aug
Medicaid% 480 40% 2, 986, 333 Sep
Medicaid% 480 40% 2, 986, 333 Oct
Medicaid% 480 40% 2, 986, 333 Nov
Medicaid% 480 40% 2, 986, 333 Dec
Total Visits per Year 5760 Total Revenue per Year 35, 835,996
Lab Revenue
The number of labs Visits per year 2340 25% 463,478. 278
Total Revenue 36299474.278 per physician by three 108898422.83
Given the fact the monetary availability and proper financial management is the lifeblood of any given venture, one of the best things that can be done at any given project budget of the fiscal year 2018 is based on the business goals and how they are wired to the financial utility. The preferred method is through the zero budgeting. Zero budgeting is the method by which all expenses must be justified. In simple terms with zero budgeting, the institution does not budget on the expected finance. In this case, it is the organization's function that is analyzed for the cost needs.
Before budgeting, Island Care Medical Group must first think of goals for the next fiscal year. The modernization of the facility and quality equipment, an increase in sales regarding clients, are some of the areas of concern. The ultimate goals and specific costs and benefits associated with the budgeting are supposed to improve the quality healthcare provided by Island Care Medical Group.
After the principal physician has carefully outlined personal and professional goals, the next challenge is determining the location where the practices of the Island Care Medical Group will be taking place. The principal physicians should make this decision based on the personal reasons and opportunities for quality healthcare provision. In this regard, this report addresses two different aspects that are significant to Island Care Medical Group financial success of a new physician by either estimating the costs and revenues link with operating the facility. Else, this is aimed at assessing the number of Island Care Medical Group physicians' medical services can support.
Also, a methodology suitable to this will be used to evaluate the population in a service area and to limit the number of physicians presently practicing in the area, and determine whether extra physical services needed. The added information will be presented to assess the feasibility of selecting a particular location such as estimating the potential visits, practice revenues, and capital operation costs. Finally, there will be a need to evaluate the ability to assists the additional physicians; a prospective physician required to perform evaluations of the demand for the services by estimating possible local office visits.
Profit or Loss Statement
The profit or loss statement is a financial declaration that summarizes the costs, revenue, and expenses the business or institution occurred over a period, in Island Care Medical Group case this depicts a one year. The statement provides information on the Island Care Medical Group's ability to generate profit by enhancing the revenue and reducing cost. It is also known as the statement of profit or loss, operation statement, financial results statements or statement of income. As the various companies release quarterly reports, for instance, the considerable factor is the revenues and earnings per share. The element is adjusted regularly, and the market reaction has several numbers to consider when comparing a market analyst' expectations.
The income statement can be calculated using some metrics, such as gross profit margin, operation ratio, net profit margin or the operating profit margins. Another relevant aspect is the balance sheet and statement showing the flow of the cash. The report of the income provides an insight look at a company's performance financially. Primarily, this is obtained by taking the total revenues subtracting both expenses and the taxes as shown below
Island Care Medical Group case
Revenue 108,898,422.83
Less Expenses 358,169,327.46
Less taxes 959768
Total Loss = -250,230,672.63
Conclusion
To conclude, after calculating the expenses, revenue projects of Island Care Medical Group, the sensitive part factor is indicating negative of positive growth. Different sensitive part can be obtained through application to each revenue streak. The calculation and development of the profit or loss statement assist the very important to Island Care Medical Group as it assists to show whether the facility is making a profit or loss, the financial focus.
Cite this page
Island Care Medical Group, Finance Essay Example. (2022, Apr 25). Retrieved from https://speedypaper.net/essays/island-care-medical-group-overview
Request Removal
If you are the original author of this essay and no longer wish to have it published on the SpeedyPaper website, please click below to request its removal: