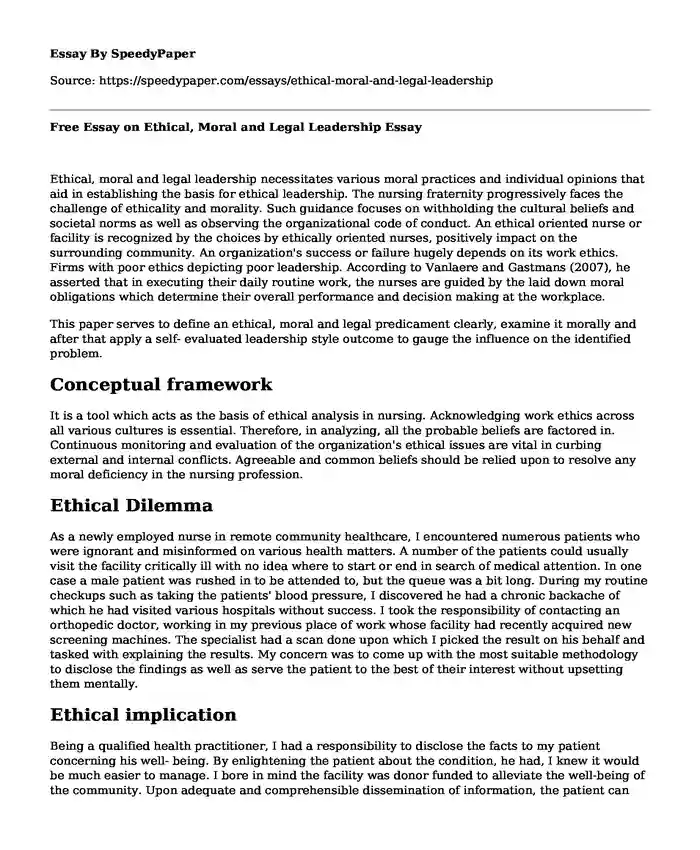 Ethical, moral and legal leadership necessitates various moral practices and individual opinions that aid in establishing the basis for ethical leadership. The nursing fraternity progressively faces the challenge of ethicality and morality. Such guidance focuses on withholding the cultural beliefs and societal norms as well as observing the organizational code of conduct. An ethical oriented nurse or facility is recognized by the choices by ethically oriented nurses, positively impact on the surrounding community. An organization's success or failure hugely depends on its work ethics. Firms with poor ethics depicting poor leadership. According to Vanlaere and Gastmans (2007), he asserted that in executing their daily routine work, the nurses are guided by the laid down moral obligations which determine their overall performance and decision making at the workplace.
This paper serves to define an ethical, moral and legal predicament clearly, examine it morally and after that apply a self- evaluated leadership style outcome to gauge the influence on the identified problem.
Conceptual framework
It is a tool which acts as the basis of ethical analysis in nursing. Acknowledging work ethics across all various cultures is essential. Therefore, in analyzing, all the probable beliefs are factored in. Continuous monitoring and evaluation of the organization's ethical issues are vital in curbing external and internal conflicts. Agreeable and common beliefs should be relied upon to resolve any moral deficiency in the nursing profession.
Ethical Dilemma
As a newly employed nurse in remote community healthcare, I encountered numerous patients who were ignorant and misinformed on various health matters. A number of the patients could usually visit the facility critically ill with no idea where to start or end in search of medical attention. In one case a male patient was rushed in to be attended to, but the queue was a bit long. During my routine checkups such as taking the patients' blood pressure, I discovered he had a chronic backache of which he had visited various hospitals without success. I took the responsibility of contacting an orthopedic doctor, working in my previous place of work whose facility had recently acquired new screening machines. The specialist had a scan done upon which I picked the result on his behalf and tasked with explaining the results. My concern was to come up with the most suitable methodology to disclose the findings as well as serve the patient to the best of their interest without upsetting them mentally.
Ethical implication
Being a qualified health practitioner, I had a responsibility to disclose the facts to my patient concerning his well- being. By enlightening the patient about the condition, he had, I knew it would be much easier to manage. I bore in mind the facility was donor funded to alleviate the well-being of the community. Upon adequate and comprehensible dissemination of information, the patient can now arrive at conversant decisions and opt for various treatment possibilities. Legally a nurse is not allowed to release delicate health information to any third person. However, this is allowed to my colleagues on the basis that they have the required knowledge or ideas to tackle the condition. Notable is the fact that it is always advisable to decide the best interest of the patient without violating the guiding principles of nursing principles of ethicality, in this case, informed consent.
Self-Leadership Style
Once in this particular dilemma in my practice, it was necessary for me to apply one of my best leadership styles, democracy. The method encourages fair play, cross communication and engages every staff in the decision-making process. The patient scheduled on painkillers for the next few days to manage the pain while on follow-up. I consulted my colleagues on which a significant number of them were on permanent employment and the others comprised of interns. As recommended by Adams and Anantatmula (2010), I sought opinions from nurses who had worked in the facility for a prolonged time as well as those who had previous experience of releasing such information to patients
About 30% of the nurses thought it was wise to allow the patient find healthcare in other facilities since none was bold enough to disclose the news. About 57% suggested I identify a private room, let the patient accompany me to the office and then clarify the condition to him. The remaining percentage advised me to tell the patient that it was entirely a manageable condition which could heal with continued medication intake.
To better understand where my personality falls, I referred to the Keirsey Temperament Sorter (Robbins & Ross, 2017). With determination to helping this patient get the whole truth without hurting his feelings as well as observing the ethical practices in my profession, I ruled out my personality as a guardian. I have made it my core obligation to attend to my patients, guiding and helping them through the journey of their discovery keenly observing ethical and legal practices in my line of work. I, therefore, find it a success at the end of the day as the facility is at the forefront of ensuring affordable and excellent healthcare services to the patients. It is always fulfilling to receive positive feedback of satisfaction from a patient after attending to them. There can never be such a satisfying feeling than that of reducing ache and anguish.
Remedy to The Dilemma
A careful review of my most of my colleagues' views suggested that I ought to disclose the news to the client in a morally acceptable way. I took the responsibility of inviting the patient to the facility a day later, whereby I took him through the possible causes of the condition, medication and management options. Finally, the patient agreed to accept his condition and take his medication and was hopeful of recovering. That was achievable through the sampling of my colleagues' opinions out of which I managed to pick the best practice. Eventually, I was the one to reach the final ultimatum after scrutiny and upon the conviction that our assessments were in agreement. According to Azaare and Gross (2001), democratic leadership style comes up with the most appropriate resolutions. Relying on the same principle, I faced the patient with honesty, and together we figured out how to manage the medical before him.
Conclusion
Legal and ethical dilemmas are dominant in the healthcare industry, and as for this particular nursing career, nurses have to interact with a lot of patients daily. Nurses often face different ethical issues surrounding patients' data confidentiality, organ transplants genetic engineering and aided suicides. Regardless of the existence of legal, moral and legal guidelines that dictate professionalism, one needs education in the field and ability to detect risks that could emerge from any decision concerning a patient. It ensures that no errors incurred as a result of ignorance of the nurses. Ethical issues differ depending on the patients' information and profiles and the environment. The need for awareness of ethical issues pertains to the rational consideration of action plans in specific cases and bearing in mind the guidelines on ethics and morals in healthcare facilities. The basic responsibility of any medical practitioner is to advocate for the patients' rights and to be healthcare givers to the community as a whole, as stipulated by the ethical and moral guidelines.
References
Cohen, J. S., & Erickson, J. M. (2006). Ethical dilemmas and moral distress in oncology nursing practice. Clinical journal of oncology nursing, 10(6).
Cummings, G. G., MacGregor, T., Davey, M., Lee, H., Wong, C. A., Lo, E., ... & Stafford, E. (2010). Leadership styles and outcome patterns for the nursing workforce and work environment: a systematic review. International journal of nursing studies, 47(3), 363-385.
De Casterle, B. D., Izumi, S., Godfrey, N. S., & Denhaerynck, K. (2008). Nurses' responses to ethical dilemmas in nursing practice: metaanalysis. Journal of advanced nursing, 63(6), 540-549.
De Casterle, B. D., Izumi, S., Godfrey, N. S., & Denhaerynck, K. (2008). Nurses' responses to ethical dilemmas in nursing practice: metaanalysis. Journal of advanced nursing, 63(6), 540-549.
Tomey, A. M. (2009). Nursing management and leadership. USA: Mosby Elsevier.
Tonnessen, S., Nortvedt, P., & Forde, R. (2011). Rationing home-based nursing care: professional ethical implications. Nursing ethics, 18(3), 386-396.
Cite this page
Free Essay on Ethical, Moral and Legal Leadership. (2022, Jul 04). Retrieved from https://speedypaper.net/essays/ethical-moral-and-legal-leadership
Request Removal
If you are the original author of this essay and no longer wish to have it published on the SpeedyPaper website, please click below to request its removal: