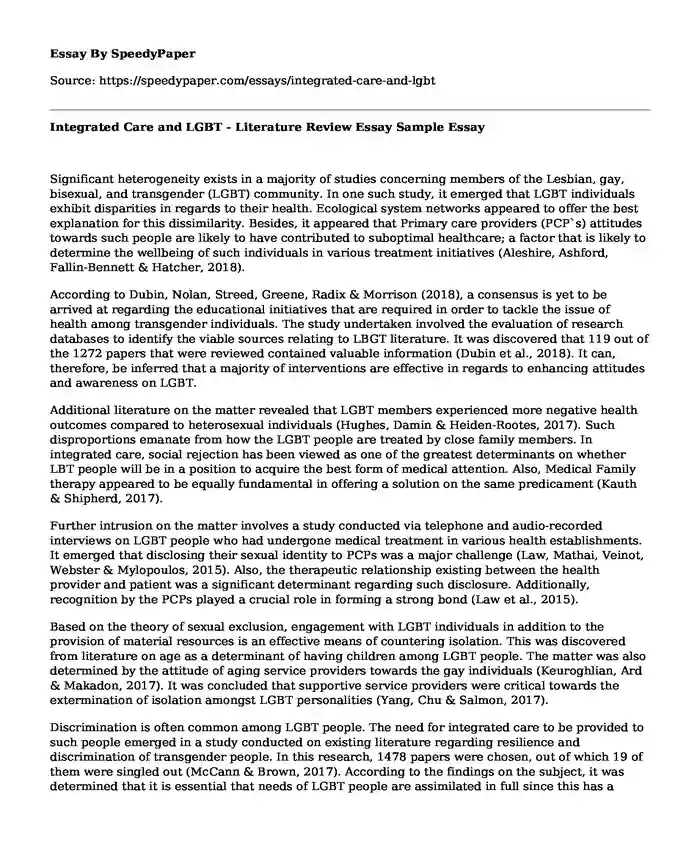 Significant heterogeneity exists in a majority of studies concerning members of the Lesbian, gay, bisexual, and transgender (LGBT) community. In one such study, it emerged that LGBT individuals exhibit disparities in regards to their health. Ecological system networks appeared to offer the best explanation for this dissimilarity. Besides, it appeared that Primary care providers (PCP`s) attitudes towards such people are likely to have contributed to suboptimal healthcare; a factor that is likely to determine the wellbeing of such individuals in various treatment initiatives (Aleshire, Ashford, Fallin-Bennett & Hatcher, 2018).
According to Dubin, Nolan, Streed, Greene, Radix & Morrison (2018), a consensus is yet to be arrived at regarding the educational initiatives that are required in order to tackle the issue of health among transgender individuals. The study undertaken involved the evaluation of research databases to identify the viable sources relating to LBGT literature. It was discovered that 119 out of the 1272 papers that were reviewed contained valuable information (Dubin et al., 2018). It can, therefore, be inferred that a majority of interventions are effective in regards to enhancing attitudes and awareness on LGBT.
Additional literature on the matter revealed that LGBT members experienced more negative health outcomes compared to heterosexual individuals (Hughes, Damin & Heiden-Rootes, 2017). Such disproportions emanate from how the LGBT people are treated by close family members. In integrated care, social rejection has been viewed as one of the greatest determinants on whether LBT people will be in a position to acquire the best form of medical attention. Also, Medical Family therapy appeared to be equally fundamental in offering a solution on the same predicament (Kauth & Shipherd, 2017).
Further intrusion on the matter involves a study conducted via telephone and audio-recorded interviews on LGBT people who had undergone medical treatment in various health establishments. It emerged that disclosing their sexual identity to PCPs was a major challenge (Law, Mathai, Veinot, Webster & Mylopoulos, 2015). Also, the therapeutic relationship existing between the health provider and patient was a significant determinant regarding such disclosure. Additionally, recognition by the PCPs played a crucial role in forming a strong bond (Law et al., 2015).
Based on the theory of sexual exclusion, engagement with LGBT individuals in addition to the provision of material resources is an effective means of countering isolation. This was discovered from literature on age as a determinant of having children among LGBT people. The matter was also determined by the attitude of aging service providers towards the gay individuals (Keuroghlian, Ard & Makadon, 2017). It was concluded that supportive service providers were critical towards the extermination of isolation amongst LGBT personalities (Yang, Chu & Salmon, 2017).
Discrimination is often common among LGBT people. The need for integrated care to be provided to such people emerged in a study conducted on existing literature regarding resilience and discrimination of transgender people. In this research, 1478 papers were chosen, out of which 19 of them were singled out (McCann & Brown, 2017). According to the findings on the subject, it was determined that it is essential that needs of LGBT people are assimilated in full since this has a significant impact on the quality of their lives and also their personal health (McCann & Brown, 2017).
It has also been discovered that there is a great need for nurses to acquire the necessary academic training in order for them to be in a position of offering specialized care to all patients regardless of their ethnic or social affiliations. According to research on the examination of LGBT patients in North Carolina, it is apparent that the latter group is one of those that desires particular attention (Cornelius, Enweana, Alston & Baldwin, 2017). Further examination on the matter showed that studies on LGBT were taught in schools yet the application was absent in the working environment (Cornelius et al., 2017).
There is an increasing need to advance the health administered to LGBT persons in various health care centers. The alignment of academic health centers is focused on remitting the desired impact on LGBT populations, as well as ensuring that unique health requirements are satisfied (Yehia et al., 2015). The authorities at various centers are tasked with the responsibility of ensuring that the desired attention is offered to all the patients.
Studies pertaining to LGBT ought to be incorporated into various curriculums. Some members of the community are often discriminated and treated harshly within the society owing to their sexual orientation (Powell & Foglia, 2014). Teaching the subject will ensure that such individuals are treated in a similar way to others in the society. Disparities should not in any way been allowed to corrupt the minds of people. Instead, individuals should be able to view all persons equally (Powell & Foglia, 2014).
Current research indicates that 10% of the American population comprises of LGBT individuals (Lim & Bernstein, 2012). Out of this, 7 million people belonging to the elderly class of individuals in the society. As a result, the latter people are likely to be faced with great health issues compared to the younger generation of individuals. The nurses are, therefore, expected to adhere to the idea of providing sensitive medical attention to the elderly LGBT patients without exhibiting any form of bias (Lim & Bernstein, 2012).
According to Reisner et al., (2015), Fenway community health was created with an aim of offering the required medical attention to gay individuals. Within a short span of time, it expanded its operation by catering for AIDS individuals who were gay. Up to 5000 patients were recorded as people who had visited the facility in 1975 (Reisner, et al., 2015). With additional staff members being recruited and the annual budget for the facility expanding enormously, it became evident that majority of the LGBT individuals preferred the health center since it turned to be a place where they would be in a position to acquire the kind of medical attention they need without experiencing any form of bias (Munro et al., 2017). This is an example of integrated care which is expected to be demonstrated in other institutions as well.
In most societies, LGBT Parents and their children are often target for discrimination. Professionals, religious individuals, institutions and all other groups of people tend to be biased against the gay individuals (Farr et al., 2018). This has presented an opportunity for psychological researchers to conduct research on the matter. The studies conducted on the matter have, nevertheless, been criticized for their inadequacy. For instance, they are deficient of control groups and also the same researches have in the past been deficient having concluded that being gay is a form of mental ailment (Sumontha, Farr & Patterson, 2016).
A 1984 study on the bias on LGBT individuals in psychotherapy by the American Psychological Association (APA) revealed that not all psychologists adhered to the set standards on unbiased practices (American Psychological Association, 2017). In order for individual practice to be empowered, teachings have to be reciprocated to gay individuals as a way of educating them on the differing sexual orientations of various people. Besides, the year 1975 marks an important period in history when the APA stood their ground by taking a strong resolve against biased practices on the LGBT people (Tornello & Patterson, 2018).
It has often been perceived that psychologists try their best to comprehend the social stigma experienced by individuals because of their sexual affiliation. Besides, they have come to understand that this group of people is does not have any connection to mental illness (Goldblum, Pflum, Skinta & Balsam, 2017). Also, psychologists now know that the sexual feelings of the LGBT individuals result from normal variants (McGeorge, Carlson & Toomey, 2015). In addition to this, they have come to understand that the gay individuals deserve equal treatment just like the rest of their patients.
References
Aleshire, M. E., Ashford, K., Fallin-Bennett, A., & Hatcher, J. (2018). Primary Care Providers' Attitudes Related to LGBTQ People: A Narrative Literature Review. Health promotion practice, 1524839918778835.
American Psychological Association. (2017). Issues in psychotherapy with lesbian and gay men: a survey of psychologists.
Cornelius, J. B., Enweana, I., Alston, C. K., & Baldwin, D. M. (2017). Examination of lesbian, gay, bisexual, and transgender health care content in North Carolina schools of nursing. Journal of Nursing Education, 56(4), 223-226.
Dubin, S. N., Nolan, I. T., Streed Jr, C. G., Greene, R. E., Radix, A. E., & Morrison, S. D. (2018). Transgender health care: improving medical students' and residents' training and awareness. Advances in medical education and practice, 9, 377.
Farr, R. H., Bruun, S. T., Doss, K. M., & Patterson, C. J. (2018). Children's gender-typed behavior from early to middle childhood in adoptive families with lesbian, gay, and heterosexual parents. Sex Roles, 78(7-8), 528-541.
Goldblum, P., Pflum, S., Skinta, M., & Balsam, K. (2017). Psychotherapy with lesbian, gay, and bisexual clients: Theory and practice. Comprehensive textbook of psychotherapy: Theory and practice, 330-345.
Hughes, R. L., Damin, C., & Heiden-Rootes, K. (2017). Where's the LGBT in integrated care research? A systematic review. Families, Systems, & Health, 35(3), 308.
Kauth, M. R., & Shipherd, J. C. (Eds.). (2017). Adult Transgender Care: An Interdisciplinary Approach for Training Mental Health Professionals. Routledge.
Keuroghlian, A. S., Ard, K. L., & Makadon, H. J. (2017). Advancing health equity for lesbian, gay, bisexual and transgender (LGBT) people through sexual health education and LGBT-affirming health care environments. Sexual health, 14(1), 119-122.
Law, M., Mathai, A., Veinot, P., Webster, F., & Mylopoulos, M. (2015). Exploring lesbian, gay, bisexual, and queer (LGBQ) people's experiences with disclosure of sexual identity to primary care physicians: a qualitative study. BMC family practice, 16(1), 175.
Lim, F. A., & Bernstein, I. (2012). PROMOTING AWARENESS of LGBT Issues in Aging in a Baccalaureate Nursing Program. Nursing Education Perspectives, 33(3), 170-175.
McCann, E., & Brown, M. (2017). Discrimination and resilience and the needs of people who identify as transgender: a narrative review of quantitative research studies. Journal of clinical nursing, 26(23-24), 4080-4093.
McGeorge, C. R., Carlson, T. S., & Toomey, R. B. (2015). An exploration of family therapists' beliefs about the ethics of conversion therapy: The influence of negative beliefs and clinical competence with lesbian, gay, and bisexual clients. Journal of marital and family therapy, 41(1), 42-56.
Munro, L., Marshall, Z., Bauer, G., Hammond, R., Nault, C., & Travers, R. (2017). (Dis) integrated Care: Barriers to Health Care Utilization for Trans Women Living with HIV. Journal of the Association of Nurses in AIDS Care, 28(5), 708-722.
Powell, T., & Foglia, M. B. (2014). The time is now: Bioethics and LGBT issues. Hastings Center Report, 44(s4), S2-S3.
Reisner, S. L., Bradford, J., Hopwood, R., Gonzalez, A., Makadon, H., Todisco, D. ... & Boswell, S. L. (2015). Comprehensive transgender healthcare: the gender affirming clinical and public health model of Fenway Health. Journal of Urban Health, 92(3), 584-592.
Cite this page
Integrated Care and LGBT - Literature Review Essay Sample. (2022, Sep 07). Retrieved from https://speedypaper.net/essays/integrated-care-and-lgbt
Request Removal
If you are the original author of this essay and no longer wish to have it published on the SpeedyPaper website, please click below to request its removal: